Vermont Insurance Adjuster License Training Class & Exam Prep
Earn Your Vermont Insurance Adjuster License!
Becoming a Vermont insurance claims adjuster can be an appealing and lucrative career path. But first, you will need an adjuster license.
At Agent Broker Training Center, we offer Vermont adjuster license courses that include everything you will need to pass your insurance adjuster exam. You can find your course and start registering by clicking the appropriate link near the bottom of this page.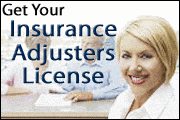 How To Become An Insurance Claims Adjuster In Vermont
Before you start claims adjuster training, be aware that there are two types of Vermont insurance claims adjuster licenses and their corresponding exams:
Property and Casualty (150 questions, 2 and a half hours)
Workers' Compensation Adjuster (50 questions, 1 hour)
You must score 70 percent or greater to pass. You can take both exams for both licenses, but you can only pursue one at a time.
Since the test is computer-administered, you will know your score immediately upon completion. If you pass, you can apply for your license. Apply at the NIPR website or go to the Sircon website to submit your application.
If everything is in order, you should receive license approval after 48 hours. Unlike many states, Vermont has specific experience requirements for licensed insurance adjusters. Please see the following section for other requirements for Vermont insurance adjusters.
Recommended Vermont Adjuster Licensing Courses, Study Guides, And Exam Prep Materials
AB Training Center provides approved Vermont Adjuster training classes, study guides, and exam prep materials needed to obtain your Vermont Insurance Adjuster license. We have everything you need to prepare yourself for the Vermont Claims Adjuster exam. Simply select from the recommended courses below, or search under "Licensing" in the search box thereafter for "Insurance-Adjusters".
Also Available: Xactimate Training Courses
We also have courses to help you familiarize yourself with Xactimate software. If you aren't familiar with Xactimate already, you'll know all about it once you start working as an adjuster. This is critical claims estimating software and we can show you how to use it the right way.
Recommended Training Courses:
Online Training Courses
Webinars Or Audio Conferences
Find Seminars, Webinars, And Online Training In Your Area
Licensing Info For How To Become A Vermont Adjuster
Below is information on the licensing requirements for becoming an Vermont Insurance Adjuster, its insurance department, and examination scheduling facilities.
Vermont Adjuster License Requirements:
18 years of age or older

Must be competent, trustworthy, financially responsible, and of good personal and business reputation

Must meet one of the following experience requirements:



Have 2 years experience in handling of loss claims or loss appraising for appraisers

Have undergone special training of sufficient duration and scope to make him/her competent to fulfill the responsibilities of the license sought. Should submit a detailed description of the training, including syllabi, curriculum, and training material

Be employed by and subject to the immediate personal supervision of a licensed adjuster, public adjuster, or appraiser who is licensed in Vermont and who has been licensed for at least 3 years preceding the date of application for the license

Pass the VT state exam administered by Prometric Testing Centers

Complete the Vermont Insurance Adjuster License application and submit with applicable fees

No Continuing Education is required
Non-Resident Vermont Insurance Adjuster License
Non-resident applicants for a VT Adjuster License must submit an application. Please visit the
National Insurance Producer Registry
for more information on Vermont non-resident licensing.
Note: Vermont grants reciprocal licensing to any state that requires an examination in order to be licensed as an adjuster.
Contact Info For Your Vermont Claims Adjuster Licensing Exam
To help with your examination scheduling, we have provided below information on Vermont licensing requirements, its insurance department, and examination scheduling facilities.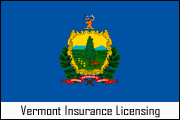 Vermont Department of Banking, Insurance, Securities & Health Care Administration - Licensing DivisionAddress:
89 Main Street, 2nd Floor | Montpelier, VT 05620-3101
Phone:
802.828.3303
Fax:
802.828.3306
Website:
https://dfr.vermont.gov/industry/insurance/producer-and-individual-licensing
Examination SchedulingProvider:
Prometric
Phone:
1.800.868.6113
Website:
http://www.prometric.com/Vermont/Insurance.htm
Good luck passing your Claims Adjuster insurance licensing exam!
Other Insurance Licensing Courses For Vermont:
Disclaimer
This information is based on state laws and regulations, and is subject to change. ABTrainingCenter makes every effort to make sure this information is current and accurate, however, ABTrainingCenter is not engaged in rendering legal or professional advice and shall not be held responsible for inaccuracies contained herein.