Vermont Securities Licensing

In Vermont, AB Training Center offers a huge selection of classes for those seeking a Series 6, 7, or 63 license.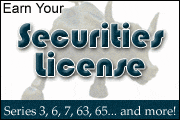 We have a variety of courses offered as self-study, seminars, online training, and even recorded webcasts are available. If you can't make it to a class, the recorded classes are a great way to catch up on what you've missed. Everyone has their own busy schedule and there's no better way to start or catch up on your education for your licensure than with the convenience we have to offer. No matter what type of license you're wishing to obtain, we have exactly what you need to obtain it here.

Tourism, agricuilture, minerals such as stone, sand , gravel, and granite make up large sectors of the state's economy, as well as textile manufacturing. Vermont has really seen a significant rise in it's industries throughout the past few years.

Securities training has also seen an increase in demand and AB Training has a great selection of classes available in Barre, Burlington, Colchester, Rutland, St. Johnsbury, and their surrounding areas. Please contact us to discover how we can help you accomplish your dreams today.

Find Vermont Securities License Exam Training

To find Series 7, Series 6, or Series 63 exam training in Vermont, either click a Recommended Course below or use the search box. Good luck on your exam!