Virginia Securities Licensing

AB Training provides securities training in the state of Virginia for obtaining a Series 6, 7, and/or 63 license.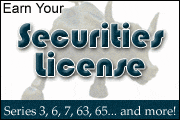 This training is offered in a number of courses and is administered through self-study, seminars, and online training. All of our courses are designed to help you prepare for the exams developed by the North American Securities Administrators Association (NASAA). By taking our classes, you will gain the knowledge and the confidence needed to pass those exams and get your license in no time.

Virginia has a broad spectrum of industries including software, communications, and agriculture. All of these sectors have seen increasing success in the last few years.

Securities training also have a larger number of people taking courses and AB Training Center offers a number of classes in Alexandria, Arlington, Norfolk, Richmond, Virginia Beach, and other cities throughout the state. If you're interested in taking any of our course, please call us today so we can get you started on your journey.

Find Virginia Series 7 and Series 6 License Training

To find Series 7, Series 6, or Series 63 exam training in Virginia, either click a Recommended Course below or use the search box. Good luck on your exam!