Washington Insurance Adjuster License Training Class & Exam Prep
Best-Selling Training Courses:
Instructor-Led: Webinars
Earn Your Washington State Insurance Adjuster License!
To become an insurance claims adjuster for Seattle, Tacoma, Olympia, Spokane, Yakima, and other cities in Washington state, you need an insurance claims adjuster license. The state of Washington's rules for obtaining an adjuster license differ from most states, so it is important to read and understand them carefully.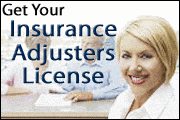 How To Become An Insurance Claims Adjuster In Washington State
Here is a brief overview of the process of becoming a Washington state claims adjuster:
Be at least 18 years old
Meet the experience requirement by either attaining your AIC, CPCU, or PCLS desgination. Alternately, you can go through an Adjuster Trainee Program. You will need to be supervised by a resident licensed adjuster for six to nine months, with 960 minimum supervised working hours. Before you begin training, you must register your program with the Washington Office of the Insurance Commissioner
Your supervising adjuster must inform the office that you are undergoing this program, with exact dates of salaried employment. This person must also provide documentation of the topics covered in your training, including the number of hours on each training topic and the months of the training
Once you meet these qualifications, register for the Washington State Adjuster exam with PSI Exams
When you pass, contact IdentoGO online for fingerprinting for a background check. Once you have completed all the requirements, apply for your license
Keep in mind that if you work for 12 consecutive months as a full-time salaried adjuster of an insurance company or managing general agent adjuster, you can apply for your license without taking the exam.
If you will be taking the Insurance Claims Adjuster exam in Washington state, adjuster license prep courses can prove extremely helpful. Use the search box at the bottom of this page to help you find the right Agent Broker Training Center courses for your exam.
Recommended Washington Adjuster Licensing Courses, Study Guides, And Exam Prep Materials
AB Training Center provides approved Washington Adjuster training classes, study guides, and exam prep materials needed to obtain your Washington Insurance Adjuster license. We have everything you need to prepare yourself for the Washington Claims Adjuster exam. Simply select from the recommended courses below, or search under "Licensing" in the search box thereafter for "Insurance-Adjusters".
Also Available: Xactimate Training Courses
We also have courses to help you familiarize yourself with Xactimate software. If you aren't familiar with Xactimate already, you'll know all about it once you start working as an adjuster. This is critical claims estimating software and we can show you how to use it the right way.
Best-Selling Training Courses:
Instructor-Led: Webinars
Licensing Info For How To Become A Washington Adjuster
Below is information on the licensing requirements for becoming an Washington Insurance Adjuster, its insurance department, and examination scheduling facilities.
Washington State's Adjuster License Requirements:
18 years of age or older

Pass the WA state exam administered by Pearson VUE Testing Centers

Complete the Washington Insurance Adjuster License application and submit with applicable fees

Exemption: Applicants for an adjuster's license who for a period of one year have been full-time salaried adjusters of an insurer or a general agent, adjusting, investigating, or reporting claims arising under insurance contracts are exempted from the examination requirement

There is NO continuing education (CE) requirement for Washington adjusters.
Non-Resident Washington Insurance Adjuster License
Non-resident applicants for a WA Adjuster License must submit an application. Please visit the
National Insurance Producer Registry
for more information on Washington non-resident licensing.
NOTE: Washington grants reciprocal licenses to adjusters who hold a home state or Designated Home State (DHS) license, as long as that state requires an examination and grants reciprocal licenses to Washington adjusters. Reciprocal licenses are not available for CA, HI, and NY.
Contact Info For Your Washington Claims Adjuster Licensing Exam
To help with your examination scheduling, we have provided below information on Washington licensing requirements, its insurance department, and examination scheduling facilities.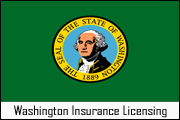 Commissioner of Insurance, State of WashingtonAddress:
5000 Capitol Boulevard | Tumwater, WA 98501
Phone:
360.725.7144
Fax:
360.586.2019
Website:
http://www.insurance.wa.gov
Examination SchedulingProvider:
PSI
Phone:
1.800.733.9267
Website:
https://candidate.psiexams.com/
Good luck passing your Claims Adjuster insurance licensing exam!
Other Insurance Licensing Courses For Washington:
Disclaimer
This information is based on state laws and regulations, and is subject to change. ABTrainingCenter makes every effort to make sure this information is current and accurate, however, ABTrainingCenter is not engaged in rendering legal or professional advice and shall not be held responsible for inaccuracies contained herein.