Washington Securities Training

In Washington, AB Training Center has several courses available for those interested in obtaining the Series 6, 7, or 63 licenses.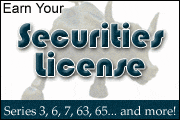 We offer several different courses and formats such as seminars,
self-study, and online training. With these options it makes it more possible for those with busy schedules to take the classes when it is most convenient for them. Each of our courses are made specifically to prepare you for the exams you will need to pass in order to obtain licensure. These exams can be a daunting task, lasting around six hours each. With our courses, you'll obtain the education in order to pass the exams without a shadow of doubt.

Washington's economy is largely made up of tourism, but industries such as manufacturing, agriculture, and lumbering make up another fair share of its economy. With the state's economy seeing a great amount of success, securities training is at a steady climb as well.

AB Training Center has courses readily available in Bellevue, Seattle, Spokane, Vancouver, Yakima, and surrounding areas. If you're in the need of gaining a securities training license, then please contact AB Training Center today.

Find Washington Securities License Exam Training

To find Series 7, Series 6, or Series 63 exam training in Washington, either click a Recommended Course below or use the search box. Good luck on your exam!