West Virginia Securities Licensing

AB Training provides securities training in the state of West Virginia for obtaining a Series 7 license.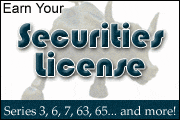 This training is offered in a number of courses and is administered through self-study, seminars, and online training. No matter how busy your schedule is, we have the perfect courses for you and your specific needs. All of our courses are designed to help you prepare for the exams developed by the North American Securities Administrators Association (NASAA).

West Virginia has a varied economy with agriculture, forestry, aerospace, energy and technology industries making up most for the state. The state has a rapidly growing economy and securities training courses have become very desired in the past few years.

We currently have a large number of products readily available in Charleston, Fairmont, Huntington, Morgantown, Weirton, and cities across the state. Please give us a call, so we can get you on the road to success today.

Find West Virginia Securities Training

To find Series 7 & Securities license training in West Virginia, either click a Recommended Course below or use the search box.