Wyoming Securities Licensing

In Wyoming, AB Training Center has several courses available for those interested in achieving the Series 7 or Series 6/63 licenses.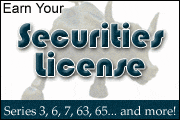 We offer a lot of different courses and formats such as seminars, self-study, online training and more. With these options it makes it possible for those with grueling schedules to take the classes when it is most convenient for them. Each of our courses are made specifically to prepare you for the exams you will need to pass in order to obtain licensure.

Wyoming has a diverse economy with industries in agriculture, mining, petroleum, gas, and more. The state has also seen an increase in tourism in the past few years as well.

Securities training is in high demand and AB Training Center has a large selection of courses available in Casper, Cheyenne, Evanston, Laramie, Rock Springs, and other cities throughout the state. Please call us today to find out how our courses can put you on the fast track to success and to that highly sought after license.

Find Wyoming Securities Licensing & Exam Training

To find Series 7, Series 6, or Series 63 exam training in Wyoming, either click a Recommended Course below or use the search box. Good luck on your exam!