Searching for Xactimate Software Training Courses?
Xactimate is the industry standard software for generating replacement cost estimates. Proficiency in Xactimate is the single most important technical skill a new adjuster must acquire.

Xactimate is a well-conceived, highly-developed, and powerful program that cuts estimating time dramatically. It is also very accessible, as Adjusters are able to access and utilize Xactware from their desktop, laptop, tablet, smartphone, or the cloud!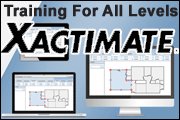 Xactimate helps adjusters:
Save time and money in creating estimates

Create more accurate, detailed, and professional-looking estimates

Access the most up-to-date and reliable pricing information

Sketch complicated roofs, rooms, layouts, and structures

Automate and streamline your estimating processes

Organize and manage your projects

Overcome language barriers in preparing estimates
Designed for construction professionals, restoration specialists, and claims adjusters, it allows you to simply key in the type and quantity of material damaged for a particular claim, and use a built-in price list to estimate costs. Xactimate is able to generate a cost-estimate for total replacement, preserving and repairing a that property to its pre-damaged condition, emergency repairs, remodeling, and more.

Course Format:

Held over 3 successive nights from 6-10pm Eastern, this 12-hour training will help you learn your way around the Xactimate interface and get acquainted with different features like the control center, price lists, and Sketch. We'll also guide you step-by-step to help create a mock claim from scratch so you can familiarize yourself with the software.

Our webinar uses a program called GoToTraining which allows you to hear the instructor and view their screen as they perform tasks in Xactimate. As a student, you will follow along and perform the same tasks in your free 30-day trial of Xactimate. You can ask questions live through the GoTo chat feature.
Find Xactimate Software Training Courses
Learning Xactimate is the most critical challenge a property claims adjuster faces on the early road to success. Knowing your way around the software not only sets you ahead of the curve in the employment line, it means you can get to work adjusting claims immediately once you're deployed. You'll be able to work through inspections and adjustments faster and with more accuracy, which puts money in your pocket!