Searching for Xactimate Software Training Courses?
Xactimate is the industry standard software for generating replacement cost estimates. In fact, many insurance carriers mandate its use for their adjusters.

Xactimate is a well-conceived, highly-developed, and powerful program that cuts estimating time dramatically. It is also very accessible, as Adjusters are able to access and utilize Xactware from their desktop, laptop, tablet, smartphone, or the cloud!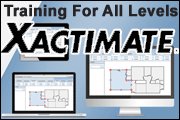 7 Crucial Skills Xactimate Training Will Teach You
How to sketch more detailed diagrams

Time-saving strategies, such as shortcut keys and maximizing how you use different windows

All 50 categories (not just the first 25). If you don?t take the time to learn these, it will take you forever just to find that shower door or wrought iron balcony fencing

How to handle system glitches

How to fix your system and retrieve your files after a crash

How to scope, draw and put the whole claim together

How to get all the necessary information from an insured so you can complete reports correctly
Designed for insurance claims adjusters, contractors, and property insurance carriers, it allows Adjusters to simply key in the type and quantity of material damaged for a particular claim, and using a built-in price list (one for every county in the United States!) Xactimate is able to generate a cost-estimate for total replacement, preserving and repairing a that property to its pre-damaged condition, emergency repairs, remodeling, and more.
Find Xactimate Software Training Courses
Learning Xactimate is the most critical challenge a property claims adjuster faces on the early road to success. With our variety of training formats, you are sure to find the Xactimate Training course to fit your needs. Learn Xactimate your way.