How To Earn Your Series 7 License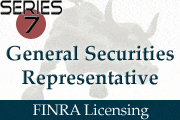 If you want to become a stockbroker, you should take a series 7 review course which has been specially designed to help you learn everything you need to know about buying and selling securities products, options, investment company products, and more.
AB Training Center provides series 7 training review courses in a variety of formats so you can choose the method of study that will help you the most. You can choose between online training courses, self-study courses, or Series 7 live review classes.
Regardless of the format you choose, you can be confident that our series 7 review packages will give you the knowledge and the skills you need to pass your exam on the first try.
These courses will help you prepare so you can confidently answer each of the Series 7 exam prep questions that will appear on your test. Click below for our most popular Series 7 courses:
About The Series 7 License
A Series 7 license qualifies a candidate for the solicitation, purchase, and/or sale of all securities products, including corporate securities, municipal securities, municipal fund securities, options, direct participation programs, investment company products, and variable contracts.
By successfully passing the Series 7 exam, you will be qualified by the Financial Industry Regulatory Authority (FINRA) as a Registered Representative of a broker-dealer in the United States - often referred to as a "Stockbroker".
About The Series 7: Exam Requirements and Information
The FINRA Series 7 Licensing exam is one of the more lengthy and intensive exams administered by FINRA. The exam covers the following major topics: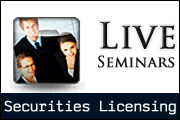 Equity and Debt Securities

Options and Derivatives

Retirement Plans and Investment Companies

Regulations

Taxation
Before you can register for the FINRA Series 7 exam, you must first be sponsored by a member of FINRA or a Self-Regulatory Organization (SRO). Please note that sponsorship is NOT needed to take any of our Series 7 review class packages.

Cost to enroll for the Series 7 exam is $290. There are 260 questions total on the test. 10 of them are 'pre-test' and do not count towards your final exam score. Candidates are allowed 6 hours to complete the Series 7 exam (broken down into 2 3-hour increments). A score of 72% or higher is needed to successfully pass the exam and earn your Series 7 license.

Available Series 7 License Review Classes

AB Training Center offers different types of training classes to help you meet your Series 7 training goals. Each of these classes has been individually tailored to meet the unique needs of each of their students. Students who thrive on classroom experiences and who prefer student and teacher interactions can take one of our Series 7 live review courses, which are offered in most major cities throughout the country.

Students who cannot make it to a classroom can opt to take our online review courses or utilize the OnDemand versions of the online reviews. Students with hectic schedules will love that they can take these courses OnDemand at their own pace. Students who prefer to learn through independent reading or video instruction can choose a self-study course that teaches the same information via hard-copy texts and accompanying study aids.
Instructor-Led Classroom Review Package:

Our Series 7 classroom training courses are designed for those who desire maximum student/teacher interaction. The intensive 4-day review class, combined with the suggested 90-120 hours of self-study, is sure to help you pass the Series 7...the first time! Live Series 7 training classes are offered in most major metropolitan areas across the US. For complete details and locations, click the link below.



Live and OnDemand Online Review Class:

This virtual training class provides the same structure and format as our live classroom course. The only difference is that you attend the course from the comfort of your home or office, and the presentation can be accessed in both live and recorded versions. This Series 7 online course also allows you to ask questions and receive answers from your instructor via email and instant messaging. Click below for details and available dates.



OnDemand Series 7 Online Review Course:

Our Series 7 OnDemand Online Review course allows you to view the entire course from beginning to end, as streaming video, offering you the same high level of instruction you would expect from a live class. The difference is that you can follow the course at your leisure - anytime, anywhere, and as often as you like. If you are training for Series 7 and work/live on a tight schedule, this is the course for you.



Self-Study Training Package:

If live or online Series 7 training classes do not fit your needs or schedule, then try our comprehensive Series 7 self-study package. We mail the study materials to you, give you access to accompanying online study aids, and the rest is up to you. This concise self-study format provides users with the most budget-friendly steps to Series 7 success.
No matter how you prefer to study for the Series 7, AB Training Center offers the best training packages to suit your needs!