Series 3 License
Earn Your Series 3 License!

Searching for Series 3 license training courses to help you pass your Series 3 exam? Then you've come to the right place!

A Series 3 license qualifies an individual to sell futures contracts or options on futures. The National Commodities Futures Exam (Series 3) is required of individuals who:
Offer or solicit business in futures or options on futures at a futures commission merchant (FCM) or introducing broker (IB) or who supervise any such person

Are associated with a commodity trading advisor (CTA) who solicits discretionary accounts or who supervises persons so engaged

Are associated with a commodity pool operator (CPO) who solicits funds for participation in a commodity pool or who supervises such persons
ABTrainingCenter.com offers Series 3 License Training Courses in many formats such as online Series 3 training, live Series 3 classes, Series 3 study guides, CDs, and other Series 3 exam prep materials to help individuals pass the Series 3 exam and earn a Series 3 license.


Recommended Series 3 Courses & Available Series 3 License Training Options

To find training for earning your Series 3 license, simply click on any of the recommended courses below, or search under "Licensing" in the search box thereafter for "Series 3".

Good luck earning your Series 3 license!
Recommended Training Courses: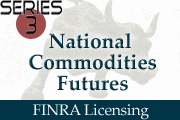 In-Person Seminars
Online Training Courses
Books/CDs/Other Training Resources
Find Seminars, Webinars, And Online Training In Your Area

Looking For Other Securities Licensing Courses? AB Training Center offers a number of FINRA / securities licensing courses and/or information on successfully passing your exams, including:
Related Links
Series 3 Exam
Share on Facebook
Share on Twitter