Are You Searching For Series 79 License Training?
The long anticipated Series 79 Exam has been approved by the SEC. This registration has created a new "Limited Representative" license for Investment Bankers. Information released to the public regarding the Series 79 license can be found by clicking HERE.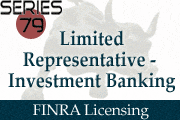 FINRA analyzed the jobs of entry-level bankers and their supervisors, and developed this new competency exam to provide a more targeted assessment of the job functions performed by associated persons who fall within the new category. The Series 79 exam will be required in lieu of the current Series 7 Exam by those who act as investment bankers.
Any person whose activities go beyond investment banking must separately qualify. For instance, an investment banker who occasionally effects trades in non-exempt securities for retail customers would have to be Series 7 licensed in addition to the Series 79.
Who Needs A Series 79 License?
Effective May 3, 2010, anyone wishing to work in the investment banking business will have to pass the Series 79 Exam. But be aware that a passing score on the Series 79 Exam may change.
Multiple forms of the Series 79 examination will be administered and a passing score will fluctuate moderately from exam to exam. It's entirely possible that a candidate could score a 72% and fail, then on a subsequent attempt score a 71% and pass! The pass point for a Series 79 exam will be indicated on the score report following the exam.
Recommended Courses & Available Training Options
To find training for earning your Series 79 license, simply click on any of the recommended courses below, or search under "Licensing" in the search box thereafter for "Series 79".
Good luck earning your license!