About The Series 27 License
Searching for Series 27 training and help passing your Series 27 exam? Then you've come to the right place!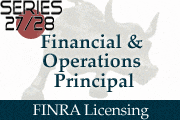 What Is A Series 27 License?

A Series 27 Financial and Operations Principal license qualifies an individual to be a financial officer of an FINRA member firm.

ABTrainingCenter.com offers online Series 27 training, in-person Series 27 seminars, Series 27 books, CDs, and other Series 27 training materials to help individuals pass the Series 27 exam and earn a Series 27 license.
Recommended Courses & Available Training Options
To find training for earning your Series 27 license, simply click on any of the recommended courses below, or search under "Licensing/Designations" in the search box thereafter for "Series 27/28". Good luck earning your Series 27 Operations Principal license!