A Crash Course For The First-Time Manager Or Supervisor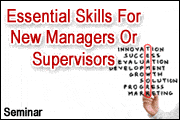 Seminar: ID# 1003664
Pricing: $149.00
About This Course:
You Earned Your New Supervisor Position...This Training Will Help You Make The Most Of It!
In your previous position, you did a great job. Yet, you're smart enough to know the skills that made you a great team player won't necessarily make you a great supervisor. For any new supervisor, training is key to success in this role.
It's not enough to follow directions...now you must give directions about what gets done, when, and by whom.


It's not enough that your projects are accurate and on time...you have to help others keep their projects on track, and see that everyone works together.


It's not enough to focus only on your department... suddenly you're a member of the management team. Your new peers will expect you to have a broader perspective, including other departments.


It's not enough to keep yourself motivated...you have to be a coach, cheerleader, and "strong shoulder" to people who have bad days, conflicts with each other, and other demands that you might not be able to satisfy.
Make Your Move Into Your New Supervisor Position Smoother And More Successful!
What You'll Learn:
Attend this one-day training seminar and gain all the skills and insights you need to lead with confidence and conviction, including:
How to start producing results right away

Ways to avoid the problems that sabotage many new supervisors

How to get the unvarnished truth about a new employee's position and performance

What it takes to get productivity from people who aren't used to you being "the boss"

How to size up your supervisor - so you can give better support and get more backing in return

How to increase your visibility and earn the respect your position deserves
Who Will Benefit Most From This Training?
New supervisors and managers with less than one year of experience
Aspiring and soon-to-be-promoted supervisors
Experienced supervisors with little or no formal supervisor training
Continuing Education Credits:

Click the 'Credits' tab above for information on PHR/SPHR, PDCs, and other CE credits offered by taking this course.