Additional Info For The AINS Designation
How To Obtain The AINS Designation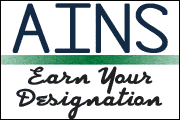 To earn this designation, you must complete specific courses. For details and a listing of the required courses, go to https://web.theinstitutes.org, which is where you order the designation courses and from whom you earn your designation.
Please note that the course listings you see here on TrainingCenter are study guides and exam prep materials, not the official designation courses.
In other words, similar to earning a college degree, you receive the degree from your college, but can use Cliff Notes or other exam prep materials to help you pass the courses to earn your degree.
While the exam prep materials shown on TrainingCenter are not required, the average pass rate with these materials is 97.3%, so they definitely are instrumental in helping to pass your certification exams on your first attempt, thereby saving you time, money, and aggravation.
Other Requirements
Examination Requirements
Each AINS exam is a two-hour, 85 objective question, computer-administered exam (exams for elective courses vary)

Your results will be provided immediately upon the completion of your exam.

National exams are given at local testing centers during the following two-month windows:



January 15 - March 15

April 15 - June 15

July 15 - September 15

October 15 - December 15

Exam fees will apply

Contact Prometric testing centers at 800-266-3232 for more info or to schedule your exam
Ethics Requirement
Those pursuing the AINS designation must pass a 50-question exam in the
Ethical Guidelines For Insurance Professionals
online module. This module is offered by the Institutes at no charge. If you wish to earn CE credits for passing the 50-question, objective, online exam included with it, there is a nominal $5 administrative fee.
Additional Requirements
Candidates are not required to meet experience or education requirements to attain this designation.
Continuing Education Requirements
A designee is not required to fulfill any annual continuing education requirements, nor are there any annual fees for a designee to maintain the designation.
How To Prepare For The AINS Certification Examinations
To receive the Associate in General Insurance (AINS) designation, you must pass the required exams and to pass those exams, you must be prepared. The Agent Broker Training Center can help make sure you are, with AINS courses specifically designed to help you pass the AINS examinations the first time.
Our surveys show that our candidates pass the AINS exams at roughly twice the rate of those who use other preparation materials, helping you learn more in less time. This is because our courses include study guides that are direct and to-the-point. These guides cover all the most important aspects of issues like understanding insurance, underwriting and risk management in clearly laid out ways that are easy to understand and retain.
The better prepared you are, the greater the likelihood you will pass it the first time and be able to start started on your insurance career sooner rather than later. Make the investment in yourself and order our AINS courses today.