Earn Your Associate Premium Auditing Designation!
Searching for APA training? Then you've come to the right place!

ABTrainingCenter.com offers APA training and certification courses for those individuals interested in earning the prestigious Associate in Premium Auditing designation.

The Associate in Premium Auditing (APA) designation is the undisputed professional credential for persons who are required to perform premium audits in an organized and professional manner.

The APA designation signifies that an individual working in this field has attained comprehensive knowledge of insurance contracts, auditing procedures appropriate to a variety of complex situations, principles of insurance accounting, and the relationship of premium auditing to other insurance operations.

Curriculum For The Associate Premium Auditing Designation

Candidates must pass an examination for four of the following courses to earn the designation - three required and one elective.

Required Courses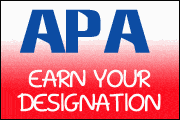 Elective Courses - (choose 1)Examination Requirements
The exams for APA 91 and APA 92 are each a two-hour, 85 question, objective (multiple choice), computer-administered exam

The exams for CPCU 520, CPCU 540 and CPCU 552 are each a three-hour, computer-administered essay exam

Your results will be provided immediately upon the completion of your exam.

National exams are given at local testing centers during the following two-month windows:

January 15 - March 15

April 15 - June 15

July 15 - September 15

October 15 - December 15

Exam fees will apply

Contact Prometric testing centers at 800-266-3232 for more info or to schedule your exam
Ethics Requirement

Those pursuing the APA designation must pass a 50-question exam in the Ethical Guidelines For Insurance Professionals online module. This module is offered by the Institutes at no charge. If you wish to earn CE credits for passing the 50-question, objective, online exam included with it, there is a nominal $5 administrative fee.

Prerequisites

A candidate is not required to meet any minimum experience or education requirement in order to pursue the APA designation.

Continuing Education Requirements

A designee is not required to fulfill any annual continuing education requirements, nor are there any annual fees for a designee to maintain the designation.

Additional Considerations

The National Society of Insurance Premium Auditors (NSIPA) confers the Certified Insurance Premium Auditor (CIPA) designation on people who hold the Associate in Premium Auditing (APA) designation and meet certain experience, education, and ethics requirements:
Business Qualifications - candidate must have completed three years of field experience conducting regulatory field audits

Education Requirement - candidate must have passed APA 91 and 92, CPCU 552 and 540 exams, plus CPCU 551 or 520

Ethical Requirement - candidate must sign the NSIPA Code of Ethics and provide three professional references
Recommended Associate Premium Auditing Designation Training Courses
ABTrainingCenter.com offers multiple courses and training formats for earning your APA designation.

Simply select any of the recommended courses below, or search under "Licensing/Designations" in the search box thereafter for "APA - Associate in Premium Auditing".