Life And Health Insurance Courses In Arkansas
Best-Selling Training Courses:
Instructor-Led: Webinars
Online Training Courses
Earn Your Arkansas Life & Health Insurance License With Our Arkansas Pre-Licensing Courses And Exam Prep Materials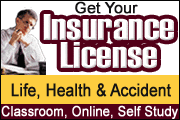 You know you need a health or life insurance license in Arkansas, but you are not sure how to go about getting it. Passing the Arkansas life insurance exam or health insurance exam is only part of the equation. Before any of that, you'll need to meet Arkansas life and health pre-licensing requirements. That's where ABTrainingCenter.com comes in. We offer all the courses you need to meet your pre-licensing requirements and be ready to take and pass the examination for a life or health insurance license in Arkansas.
What An Arkansas Life And Health Insurance License Can Do For You
If you are running an insurance business in Arkansas, you need to be able to offer life and health insurance. Most of your clients will come to you looking for either property and casualty insurance or life and health, and you have to be ready to service their needs. With a life, health or combined life and health insurance license, you can do just that.
Arkansas Life And Health Pre-Licensing Requirements For Resident Agents
Arkansas has specific insurance licensing requirements to its own state, just as other states have their own insurance licensing provisions. One of the requirements is that potential agents take a state-approved pre-licensing course and get certified as having satisfactorily completed said course. Agent Broker Training Center offers state-approved life and health insurance pre-licensing courses and certification to prepare you for a state licensing exam.
Once you have your pre-licensing certification, you are ready to schedule your exam. Schedule your exam by contacting PSI then, go to the assigned testing Center at the scheduled time to take the exam.
Be sure to bring a valid government-issued photo ID and proof of pre-licensing certification. Once you pass, contact the Arkansas Department of Insurance to apply for your license.
Arkansas Life And Health Licensing Examination Requirements
The Arkansas licensing examination is a multiple-choice exam that you will take on a computer. There are 100 questions for the life portion and 100 questions for the accident and health or sickness portion. You must successfully answer 70% of the questions for a passing grade.
Life And Health Insurance Courses For Arkansas With Agent Broker Training Center
You don't have to worry about finding the right pre-licensing courses for your life or health insurance exam in Arkansas. We have everything you need right here. We offer live seminars, online classes and self-study materials to allow you to study in your own way and to give you the best chance of passing the exam quickly.
To get started, find the courses you need below by choosing from our recommended courses list or doing a licensing search for Arkansas.
Recommended Arkansas Life And Health Insurance Courses And Exam Prep Materials
To find Arkansas Life and Health insurance licensing courses and exam prep materials, simply click on any of the recommended courses below or select "Life & Health" and your state from the "Licensing" section of the search box below. Good luck passing your Arkansas Life & Health insurance licensing exam!
Best-Selling Training Courses:
Instructor-Led: Webinars
Online Training Courses
Find Seminars, Webinars, And Online Training In Your Area
Contact Info: Arkansas Life And Health Insurance Licensing Info
Arkansas Department of Insurance - Licensing Division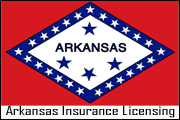 Address:
1200 W 3rd St | Little Rock, AR 72201
Phone:
501-371-2750
Email:
insurance.license@arkansas.gov
Website:
http://insurance.arkansas.gov
Examination FacilityProvider:
PSI Exams
Phone:
800-733-9267
Website:
https://candidate.psiexams.com/index.jsp
Other Insurance Licensing Courses For Arkansas:
Disclaimer
This information is based on state laws and regulations, and is subject to change. ABTrainingCenter makes every effort to make sure this information is current and accurate, however, ABTrainingCenter is not engaged in rendering legal or professional advice and shall not be held responsible for inaccuracies contained herein.