How To Become A Pennsylvania Life & Health Insurance Agent
Below is information on the licensing requirements for becoming a Pennsylvania Life & Health Insurance Agent, its insurance department, test requirements, and examination scheduling facilities.
What Is On The Pennsylvania Life and Health Insurance Exam?
Since Life & Health licensing is state specific, your exam will include questions on your state's insurance regulations for the product(s) you want to sell. Your exam covers topics such as the following:
Insurance regulations
Life insurance basics
Health insurance basics
Disability insurance
Group health insurance
Policy Provisions
Tax considerations for health insurance
State regulations
How To Get Your Insurance License In Pennsylvania
Step 1. Purchase Your Pre-License Education Course
Before attempting to take the insurance license exam you'll need to be sure you're well prepared. Since PA requires pre-licensing before you can sit for the state exam it is not something to take lightly.
What we have found is that the majority of the non-pass attempts are people who come to the exam having studied for the bare minimum number of hours. Once they take the exam and realize that most of the questions can't be answered with common knowledge, they go back and have to put in more study time, then go back a second time and pass.
Since we want you to pass the first time you take the exam, we recommend that you take your studies seriously before attempting the test. Insurance license exam fees aren't cheap, so save yourself some time and money by doing it right the first time.
Step 2. Take Multiple Insurance License Sample Practice Exams
The next step after completing all of your pre-license coursework or self-study is to take the insurance exam. You will take one exam for each line of insurance you wish to carry. To ensure you pass your exam to become a licensed Pennsylvania Insurance Agent, your best approach is to take as many practice exams as possible.
With the sample practice questions that come with our Pennsylvania pre-licening courses, you will be able to build customized exams based on difficulty, length, and topic of your choice, as well as create online personal notes and bookmarks.
Contact Info For Your Pennsylvania Life & Health Insurance Licensing Exam
To help with your examination scheduling, we have provided below information on Pennsylvania licensing requirements, its insurance department, and examination scheduling facilities.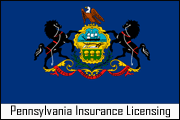 Pennsylvania Insurance Department | Bureau of Producer ServicesAddress:
1209 Strawberry Square | Harrisburg, PA 17120
Phone:
717.787.3840
Website:
https://www.insurance.pa.gov/Licensees/Pages/default.aspx
Examination SchedulingProvider:
PSI Exams
Phone:
1.800.733.9267
Website:
https://candidate.psiexams.com/index.jsp
Good luck passing your Life & Health insurance licensing exam!
Other Insurance Licensing Courses For Pennsylvania:
Disclaimer
This information is based on state laws and regulations, and is subject to change. ABTrainingCenter makes every effort to make sure this information is current and accurate, however, ABTrainingCenter is not engaged in rendering legal or professional advice and shall not be held responsible for inaccuracies contained herein.