Life And Health Insurance Courses In Connecticut
Earn Your Connecticut Life & Health Insurance License With Our Connecticut Pre-Licensing Courses And Exam Prep Materials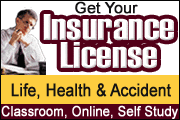 So you want to earn a life insurance license in Connecticut? Whatever your licensing plans are, in Connecticut, it starts with the right pre-licensing courses. Fortunately, ABTrainingCenter.com, the go-to source for insurance exam training courses, has all the Connecticut life and health pre-licensing courses you need.
Why Become A Connecticut Life And Health Insurance Agent
Think about the kinds of insurance you have. Do you have life insurance? Health insurance? If you have a family and a job, you almost certainly have both, and maybe even if you don't. With so many people needing this type of insurance, shouldn't you be able to sell it? Pass the Connecticut life insurance exam and health insurance licensing exam and you can! We're here to help with that.
About Our Life And Health Insurance Courses And Exam Prep Materials For Connecticut
Even if you prefer to learn on your own, you will want to look into AB Training Center courses and exam prep materials for your Connecticut life and health insurance licensing exam. We offer traditional classroom training as well as online classes. We have all the information that is likely to appear on the test and present it in comprehensive, digestible ways, including tons of sample exam questions. There is no better way to prepare for this exam. Here is just some of what you receive:
A downloadable textbook that includes information on Connecticut insurance laws
Class Notes and Audio Review
OnDemand Online Video Review that can be viewed as frequently as you like
Loads of practice exam questions
Recommended Connecticut Life And Health Insurance Courses And Exam Prep Materials
To find Connecticut Life and Health insurance licensing courses and exam prep materials, simply click on any of the recommended courses below or select "Connecticut" and your state from the "Licensing" section of the search box below. Good luck passing your Connecticut Life & Health insurance licensing exam and becoming a Connecticut Life Insurance Agent!
Find Seminars, Webinars, And Online Training In Your Area
Connecticut Life And Health Licensing Requirements For Insurance Agents
Connecticut Life And Health Pre-Licensing Requirements For Resident Agents
Insurance licensing regulations are unique to each state. In Connecticut, insurance regulations require that you complete pre-licensing before you can take the Connecticut life or health insurance exam. Completing pre-licensing means successful completion of a pre-licensing course as indicated by a passing score of 70% or greater on a state-approved pre-licensing course exam.
Agent Broker Training Center can supply you with the proper course, which also has everything you need to fully prepare you for the licensing examination.
After you complete your course and get your certificate, schedule your test with Prometric online or at 1-800-341-3257. If you are just taking a life insurance exam or health insurance exam, the fee is $54. If you are doing a dual line for licenses in both life and health, the fee is $79.
Take a valid government-issued photo ID and your certificate of completion to the test. After you pass your test and receive the notification, you can apply for your license online at NIPR.
Connecticut Life And Health Licensing Examination Requirements
If you are taking the Life Insurance examination only, you will have 100 questions to complete in two hours on the following topics:
General Insurance
Life Insurance Basics
Life Insurance Policies
Life Insurance Policy Provisions, Options and Riders
Annuities
Qualified Plans
Federal Tax Considerations for Life Insurance and Annuities
Insurance Regulation
The Accident and Health Insurance Licensing Exam also has 100 questions in two hours on:
General Insurance
Health Insurance Basics
Individual Health Insurance Policy General Provisions
Disability Income and Related Insurance
Medical Plans
Group Health Insurance
Dental Insurance
Insurance for Senior Citizens and Special Needs Individuals
Federal Tax Considerations for Health Insurance
Insurance Regulation
The combined exam features 150 questions on all of the above topics and you have 2.5 hours to complete. A passing score on any of these exams is 70% correct or greater.
Life And Health Insurance Courses For Connecticut With Agent Broker Training Center
With Agent Broker Training Center in your corner, you have the best chance of achieving your licensing goal in the shortest possible time. We have courses that can deliver all the information you need to pass these exams in a clear, concise format. You can study in your own way and on your own time. Many of our students pass the exam on the first try.
Select your courses now by choosing from the recommended course list or doing your own search on licensing in Connecticut.
Contact Info: Connecticut Life And Health Insurance License Requirements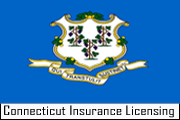 Connecticut Department of Insurance - Licensing DivisionAddress:
P.O. Box 816 | Hartford, CT 06142-0816
Phone:
860.297.3845
Website:
http://www.ct.gov/cid
Examination Scheduling
CT examination scheduling is administered by
Prometric Testing Centers
Other Insurance Licensing Courses For Connecticut:
Disclaimer
This information is based on state laws and regulations, and is subject to change. ABTrainingCenter makes every effort to make sure this information is current and accurate, however, ABTrainingCenter is not engaged in rendering legal or professional advice and shall not be held responsible for inaccuracies contained herein.