Life And Health Insurance Courses In Delaware
Best-Selling Training Courses:
Instructor-Led: Webinars
Online Training Courses
Earn Your Delaware Life & Health Insurance License With Our Delaware Pre-Licensing Courses And Exam Prep Materials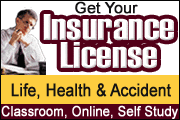 Perhaps you are already a successful or growing provider of property or casualty insurance in Delaware and are looking to expand, or perhaps you are just starting out in insurance and seeking the right specialization.
Whatever the reason, obtaining a life and health insurance license in Delaware is a great way to build your practice, beef up your resume and offer more services to clients. You can earn your health and life insurance license in Delaware in a reasonable amount of time if you just take the right approach, which starts with Delaware life and health exam-prep courses with ABTrainingCenter.com.
What A Delaware Life And Health Insurance License Can Do For You
Health and life insurance are often the first types of policies your average Delaware resident looks for when seeking insurance to protect themselves or their families. By earning the life and health insurance license, you put yourself in a position to engage a large amount of insurance business in the Delaware area, which can grow your practice dramatically. To earn that license, you will have to pass the Delaware life insurance exam and health insurance exam.
Delaware Life And Health Pre-Licensing Requirements For Resident Insurance Agents
Each state has its own pre-licensing and licensing requirements for its life and health insurance agents. Many states require dozens of hours of pre-licensing training and satisfactory completion of insurance pre-licensing courses. Delaware does not, but there are very good reasons for taking life and health prep courses anyway.
The key to passing any state insurance licensing exam is many hours of concentrated study. Without pre-licensing requirements and studying on your own, you may be tempted to skip certain areas that you feel confident about or not put in quite as many hours as you should. By taking an AB Training Center life or health insurance exam-prep course, you will ensure that you are studying all the material that you need to pass the exam and have the means and incentive to put in the number of hours required. As a result, your chances of passing the exam on the first try go up dramatically.
After you take your courses and put in the study time, you are ready to register for the exam. Call Pearson VUE, the company that administers the insurance licensing exams for Delaware, at 800.274.0455.
Delaware Life And Health Licensing Examination Requirements
You will need to pay $90 to register for the exam. On your scheduled date, you need to have two forms of government-issued I.D. such as a passport and driver's license. One must be a photo I.D. with signature. Next, you must take and pass the exam. For the life insurance examination, you will face 106 questions with 135 minutes to complete the exam. For accident and health alone, you will answer 115 questions and will have 150 minutes to complete the exam. A passing grade of 70% is required.
Once you complete the exam, you will receive a pass or fail report. If you pass, you will receive information on how to apply for your license on your score report. When you apply, you also have 90 days to submit a criminal history report. Learn more about this requirement on Deleware's insurance licensure site.
Life And Health Insurance Courses For Delaware With Agent Broker Training Center
AB Training Center has a series of online courses and self-study materials to give you the best chance of earning your life and health insurance license in Delaware on the first try. Select the link corresponding to your preferred class below to get started.
Recommended Delaware Life And Health Insurance Courses And Exam Prep Materials
To find Delaware Life and Health insurance licensing courses and exam prep materials, simply click on any of the recommended courses below or select "Life & Health" and your state from the "Licensing" section of the search box below. Good luck passing your Delaware Life & Health insurance licensing exam!
Best-Selling Training Courses:
Instructor-Led: Webinars
Online Training Courses
Find Seminars, Webinars, And Online Training In Your Area
Contact Info: Delaware Life And Health Insurance License Requirements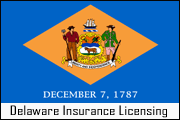 Delaware Department of Insurance - Licensing DivisionAddress:
Rodney Building | 841 Silver Lake Boulevard | Dover, DE 19904
Phone:
302.674.7390
Fax:
302.739.5280
Website:
https://insurance.delaware.gov/wp-content/uploads/sites/15/2017/12/Lic_Proc.pdf
Examination Scheduling
DE examination scheduling is administered by:
Provider:
Pearson VUE
Phone:
1.800.274.0455
Website:
http://www.pearsonvue.com/de/insurance/
Other Insurance Licensing Courses For Delaware:
Disclaimer
This information is based on state laws and regulations, and is subject to change. ABTrainingCenter makes every effort to make sure this information is current and accurate, however, ABTrainingCenter is not engaged in rendering legal or professional advice and shall not be held responsible for inaccuracies contained herein.