FINRA Securities Licensing & Exam Prep Courses In Ohio
How To Find - And Pass - Your FINRA Securities Licensing Courses In Ohio
Exam Prep Courses To Help You Pass Your FINRA Exam And Earn Your Securities License
ABTrainingCenter.com offers SIE, Top-Off, and Series 6, 7, 63, 65, and other FINRA securities licensing courses in Ohio. Available via seminar, online, and self-study formats, each Ohio securities licensing course covers the key terms, definitions, and securities concepts you'll need to pass your securities licensing FINRA exam to sell stocks, bonds, options, mutual funds, and more.
Your securities licensing training materials for Ohio are presented in a concise and easy-to-understand manner, while providing important topical insight and valuable exam tips and strategies. In addition to the study guide that covers the key concepts, your Ohio exam prep materials also include numerous sample exam questions. To find securities licensing courses and FINRA exam prep materials in Ohio, either click the recommended best-selling courses below or use the search box herein.
SIE Courses In Ohio
Top-Off Courses In Ohio
Series 6 License & Exam Prep Courses In Ohio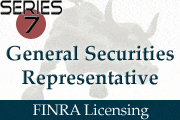 Series 7 License & Exam Prep Courses In Ohio
Series 63 Licensing & Exam Prep Courses In Ohio
Series 65 License & Exam Prep Courses In Ohio
Other FINRA Securities Licensing Courses In Ohio
ABTrainingCenter offers Series 3, 4, 52, 66, and may other training courses for earning a securities license. To find courses in Ohio, simply select your state and license type from the search box below. Good luck passing your FINRA Exam!
Find Seminars, Webinars, And Online Training In Your Area
Related Links
Below are links that can assist you with better understanding the requirements for FINRA exams: