FINRA Series 7 Licensing - Training, Exam Prep, Study Guides
How To Become A Stock Broker By Earning A FINRA Series 7 License: Requirements, Costs, And Test Prep Hints
What Does A Stock Broker Do?
A stock broker (aka a registered representative, investment adviser, or broker) is a professional who makes suggestions, executes buy and sell orders for stocks, bonds, and other securities, and helps to manage the financial portfolios of clients. You'll be qualified as a stock broker upon passing your Series 7 exam, with covered activities and products including:
Securities such as such as stocks, bonds, mutual funds, and ETFs
Corporate Bonds
Municipal bonds and government securities
Limited Partnerships
Money market funds
Fixed and Variable Annuities
Commodities and Futures
Retirement planning and financial planning
If you want to become a stock broker, you are required to take both a Securities Industry Essentials (SIE) exam and a Series 7 exam. Luckily, AB Training Center provides both SIE and the Series 7 license review courses. You can select from Instructor-led, online, or self-study formats.
These courses will help you prepare so you can confidently answer each of the SIE and Series 7 exam questions that will appear on your exams. So regardless of the format you choose, you can be confident that our SIE and series 7 exam review packages will give you the knowledge and the skills you need to pass your exam on the first try.
How To Earn A Series 7 License: About Our Series 7 Study Materials
As mentioned above, to earn a Series 7 license you must complete both the SIE and the Series 7 licensing courses. Links for each of these securities licensing courses appear below.
SIE Training Options: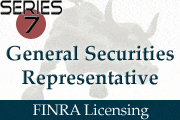 Series 7 Training Options:
Recommended Series 7 Classes, Study Guides, And Exam Prep Materials
Training Center offers in-person, online, and self-study Series 7 prep formats, all including a wide variety of Series 7 study materials designed to help you pass your exam on the first try. To find the best test prep materials and courses for you, either select a recommended course herein or use the search box by selecting "Series 7" and your state from the "Licensing" section.
Find Seminars, Webinars, And Online Training In Your Area
How To Become A Stock Broker: About The FINRA Series 7 Licensing Courses And Study Materials
A FINRA Series 7 license qualifies a candidate for the solicitation, purchase, and/or sale of all securities products, including corporate securities, municipal securities, municipal fund securities, options, direct participation programs, investment company products, and variable contracts. Questions on this securities exam are designed to test a candidate's knowledge and skills needed for ongoing success as a General Securities Registered Representative.
By successfully passing the FINRA Series 7 securities exam, you will be qualified by the Financial Industry Regulatory Authority (FINRA) as a Registered Representative of a broker-dealer in the United States - often referred to as a "Stock Broker".
As a securities financial professional, your job function will include being able to sell stocks, bonds, mutual funds, ETFs, corporate and government bonds, Limited Partnerships, Fixed and Variable Annuities, and options, commodities, and futures to your clients. To can also help your clients with retirement planning and financial planning.
About The SIE Exam Requirements And Information
The SIE is an introductory-level exam that assesses a candidate's knowledge of basic securities industry information and concepts fundamental to working in the industry, such as types of products and their risks, the structure of the securities industry markets, regulatory agencies and their functions, and prohibited practices.
The Essentials exam is open to anyone aged 18 or older, including students and prospective candidates interested in demonstrating basic industry knowledge to potential employers. Association with a firm is not required, and individuals are permitted to take the exam before or after associating with a firm.
There are no pre-requisites to taking the Securities Industry Essentials Exam, and once you pass your SIE exam, you have one full year to study for and pass your Series 7 exam.
How To Become A Stockbroker By Passing The FINRA Series 7 License Exam
The following are steps for how to pass the series 7 licensing exam and become a stockbroker. You can do many of these at your own pace, so you can work toward your Series 7 license on a timeline that works for your needs. Steps include:
Prepare for and Take the SIE
The SIE is a new exam designed by FINRA to reduce subject matter redundancy between current Series exams. Questions on the SIE exam test your general knowledge of financial activities. You can choose to take the SIE either before or after your Top Off exam. However, many people find it much easier to obtain sponsorship - a required step before registering for the Series 7 exam - after they've passed their SIE exam.


Obtain a Sponsorship by a FINRA Member Firm
Before you can register for your Series 7 exam, FINRA requires you to be associated with and sponsored by a FINRA or self-regulatory organization member firm. Your firm will register you for the exam by filling out a Form U4 (Uniform Application for Securities Industry Registration or Transfer Form) through the FINRA website. At this time, you'll be fingerprinted and undergo a background check.


Study for the Series 7 Exam
After your sponsorship, you can start studying to take your Series 7 Top Off exam, either before or after passing your SIE. It covers numerous topics related to a stockbroker's four main job functions. To ace your exam, you'll need a comprehensive study plan that accounts for each of its four aspects. At AB Training Center, we provide all the tools and support necessary for outstanding success, including Instructor-led, online, and self-study formats, all of which include study guides, practice tests, printed materials, and more.


Pass The Exam to Receive Your Series 7 Licence
You'll need a score of 72 percent or better to pass your Series 7 exam and receive your license.
More About The SIE | More About The Series 7
About The Series 7 Exam Format: What Is On The FINRA Series 7 Exam
The FINRA Series 7 Licensing exam tests your knowledge about buying and selling securities products such as stocks and bonds, options, mutual funds, ETFs, and more. The exam covers the following major topics:
Tip: Whether you take on in-person, online, or self-study course, all come with many sample exam questions. We suggest you take as many of these sample exams as possible, so you might want to leave two weeks between when you complete your pre-licensing course and your exam date.
To start the process of earning your Series 7 Securities license, simply choose your preferred pre-licensing course from the list below.
Choose ABTrainingCenter.com For Your Series 7 License And Test Prep Materials
If you're ready to prepare for a prosperous future as a stock broker, AB Training Center offers you the tools you need for success on your SIE and Series 7 exams.
Since 1994, we've helped thousands of rising financial professionals across the country ace their Series exams and find ongoing success and enjoyment in their profession. We've teamed with industry leaders like Kaplan Financial to offer numerous affordable course options to meet your needs.
Get the tools you need to ace your Series 7 exam. Contact us today for more information, or click on the available courses above to enroll in your SIE and Series 7 prep.
Related Links