FINRA Series 79 Licensing, Exam Prep, And Study Guides
Best-Selling Training Courses:
Online Training Courses
Self-Study Materials
Hot To Earn A FINRA Series 79 License
What Is A FINRA Series 79 License?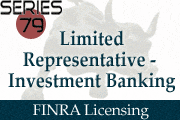 The Series 79 license, also known as the Investment Banking Representative Examination (IB), allows representatives to register with FINRA to offer advice or facilitate any of the following: debt or equity offerings (public or private), mergers or acquisitions, tender offers, financial restructuring, asset sales, business combinations transactions, and divestitures or corporate reorganizations.
The Series 79 exam is intended for registered representative looking to work in the area of investment banking whose skills are more specific than those provided by the broader Series 7 exam. As of Oct. 1, 2018, the new
Securities Industry Essentials (SIE) Examination
given by FINRA is also required to earn your license.
About The SIE: Exam Requirements and Information
The SIE is an introductory-level exam that assesses a candidate's knowledge of basic securities industry information and concepts fundamental to working in the industry, such as types of products and their risks, the structure of the securities industry markets, regulatory agencies and their functions, and prohibited practices.
Is FINRA Sponsorship Required To Get A Series 79 License?
Yes. Candidates must be associated with and sponsored by a FINRA member firm or other applicable self-regulatory organization (SRO) member firm to be eligible to take the Series 79 exam. No sponsorship is required for the SIE portion however.
What Is On The Series 79 Exam?
The content for the FINRA Series 79 exam is divided into into three major job functions:
Collection, Analysis, and Evaluation of Data
Underwriting and New Financing Transactions, Types of Offerings, and Registration of Securities
Mergers and Acquisitions, Tender Offers, and Financial Restructuring Transactions
The questions on the FINRA Series 79 licensing examination emphasize tasks such as advising on or facilitating debt or equity offerings through a private placement or public offering, and advising or facilitating mergers and acquisitions, tender offers, financial restructurings, and asset sales.
The exam is 75 multiple-choice questions given over 2.5 hours. You must score at least a 73% to pass the Series 79 exam.
Recommended FINRA Series 79 Licensing Courses & Exam Prep Materials
To find training for earning your FINRA Series 79 license, simply click on any of the recommended courses below, or search under "Licensing" in the search box thereafter for "Series 79". Good luck earning your Series 79 securities license!
Best-Selling Training Courses:
Online Training Courses
Self-Study Materials
Find Seminars, Webinars, And Online Training In Your Area
Disclaimer: This information provided is based on state laws and regulations, and is subject to change. While we make every effort to asure this information is current and accurate, it is not engaged in rendering legal or professional advice, and shall not be held responsible for inaccuracies contained herein.