Life And Health Insurance Courses In Georgia
Earn Your Georgia Life & Health Insurance License With Our Georgia Pre-Licensing Courses And Exam Prep Materials
Are you ready to earn your health and life insurance license in Georgia? ABTrainingCenter.com can help! We offer GA Life & Health Insurance Exam Prep courses via in-person classroom and online formats. Here you will find all the courses and information you need to satisfy Georgia life and health pre-licensing requirements, pass the Georgia health and life insurance exam, and earn your license.
What A Georgia Life And Health Insurance License Can Do For You
If you only have a property and casualty license in Georgia, you are only offering half the services most Georgians need when it comes to insurance. By earning your Georgia life and health insurance license, you can be a full-service insurance provider to your Georgia clients.
Life And Health Insurance Courses For Georgia With Agent Broker Training Center
Not only do Agent Broker Training Center courses fulfill your pre-licensing requirements, they are also the best way for you to prepare for your life and health insurance exam. Our courses come in live and online formats, and contain a wealth of vital information that you need to pass your licensing exam in an easily digestible format.
These courses are tailored to your learning style, so if you are someone who learns best in a live classroom environment with direct interaction with instructors, we have a course for you. If you prefer to learn at your own pace according to your own schedule, we have online courses to meet those needs. Find the right course for you below.
About Our Life And Health Insurance Courses And Exam Prep Materials For Georgia
Whether you prefer to learn on your own or in a classroom setting, you will want to look into AB Training Center courses and pre-licensing materials for your Georgia life and health insurance licensing exam. We have all the information that is likely to appear on the test and present it in comprehensive, digestible ways, including tons of sample exam questions. There is no better way to prepare for this exam. Here is just some of what you receive:
A downloadable textbook that includes information on Georgia insurance laws
Class Notes and Audio Review
OnDemand Online Video Review that can be viewed as frequently as you like
Loads of practice exam questions
Recommended Georgia Life And Health Insurance Courses And Exam Prep Materials
To find Georgia Life and Health insurance licensing courses and exam prep materials, simply click on any of the recommended courses below or select "Life & Health" and your state from the "Licensing" section of the search box below. Good luck passing your Georgia Life & Health insurance licensing exam!
Find Seminars, Webinars, And Online Training In Your Area
Georgia Life And Health Licensing Requirements
Georgia Life And Health Pre-Licensing Requirements For Resident Agents
Georgia, like all states, sets their own requirements with respect to pre-licensing and licensing for life and health insurance agents. Georgia does have a pre-licensing requirement, which amounts to completing 40 hours of pre-licensing training and receiving a certificate of completion proving you have satisfactorily completed your pre-licensing. If you are only interested in a life insurance license or only a health insurance license, your requirement is only 20 hours in the line you have chosen.
Agent Broker Training Center has the pre-licensing courses you need for your life and health insurance license requirement. Click the course you need below to get started. Once you have completed the course and receive your certificate, contact Pearson VUE to schedule your test, and pay the examination fee of $63.
Georgia Life And Health Licensing Examination Requirements
Arrive at the testing center at the scheduled time with your certificate of completion from Agent Broker Training Center and two forms of government-issued I.D., at least one of which must have a photo.
The combined Georgia Life, Accident and Health Insurance examination consists of 80 scored multiple choice questions and 20 pre-test questions on topics like types of life policies, field underwriting procedures and accident and sickness policy provisions. You will have two hours to complete the exam and must achieve a score of 70% or higher to pass.
If you pass, your score report will include directions on how to apply for your license at Sircon.com. You must pay a licensing fee of $115, and you will need to provide a Resident Insurance License Application form, a citizenship affidavit and fingerprints.
Contact Info: Georgia Life And Health Insurance License Requirements
Georgia Insurance Department - Licensing DivisionAddress:
908 West Tower | 2 Martin Luther King, Jr. Dr. | Floyd Memorial Building | Atlanta, GA 30334
Phone:
404.656.2101
Fax:
404.656.0874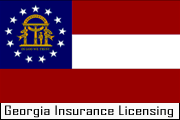 Email:
agents@mail.oci.state.ga.us
Website:
https://oci.georgia.gov/agents-agency-licensing
Examination SchedulingProvider:
Pearson VUE
Phone:
1-800-274-0488
Website:
http://www.pearsonvue.com/ga/insurance/
Other Insurance Licensing Courses For Georgia:
Disclaimer
This information is based on state laws and regulations, and is subject to change. ABTrainingCenter makes every effort to make sure this information is current and accurate, however, ABTrainingCenter is not engaged in rendering legal or professional advice and shall not be held responsible for inaccuracies contained herein.