Earn Your Hawaii Life And Health Insurance License
Best-Selling Training Courses:
Instructor-Led: Webinars
Online Training Courses
Life And Health Insurance Courses In Hawaii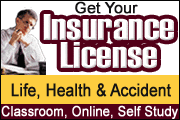 Though residents of Hawaii enjoy the island lifestyle, they still need to protect themselves with the right amount of life and health insurance coverage. With a health and life insurance license for Hawaii, you and your insurance firm can provide that coverage. ABTrainingCenter.com can help. You will find the Hawaii life and health pre-licensing and licensing requirements below.
What A Hawaii Life And Health Insurance License Can Do For You
You cannot offer life or health insurance policies to residents anywhere in Hawaii without a life or health insurance license. This license will enable you to be a more complete provider of insurance services, offering some of the most important policies sought after by Hawaiians.
About Life And Health Insurance Courses For Hawaii With Agent Broker Training Center
Although you are not required to take pre-licensing courses before sitting for the exam, your chances of passing the exam on the first try will improve dramatically if you do. Without an exam-perp course from AB Training Center, you may not know what to expect on the exam, which could hurt your exam score.
We offer comprehensive online training courses and study materials with sample questions, practice exams, test-taking tips and a wealth of information that will help you prepare for the life and health insurance licensing exam. These courses are designed to fit your learning style so you can get the most out of the information we provide. You can find the right course for you by clicking the appropriate link below.
Recommended Hawaii Life And Health Insurance Courses And Exam Prep Materials
To find Hawaii Life and Health insurance licensing courses and exam prep materials, simply click on any of the recommended courses below or select "Life & Health" and your state from the "Licensing" section of the search box below. Good luck passing your Hawaii Life & Health insurance licensing exam!
Best-Selling Training Courses:
Instructor-Led: Webinars
Online Training Courses
Find Seminars, Webinars, And Online Training In Your Area
Life And Health Insurance Licensing Info For Hawaii Insurance Agents
Life And Health Insurance Pre-Licensing Requirements For Resident Insurance Agents
Each state in the union, including Hawaii, has its own state-specific requirements for receiving a life or health insurance license. Hawaii does not have the pre-licensing requirements that many states have. You are not required to undergo training before taking the Hawaii health or life insurance exam. Once you feel you have studied a sufficient amount, you can schedule your life or health insurance licensing exam with Pearson VUE, which is the established test provider for Hawaii. The only prerequisite is to pay the $75 exam fee.
Hawaii Life And Health Licensing Examination Requirements
On the day of the exam, be sure to bring the proper identification. You will need two pieces of government issued I.D. with signature, at least one of which includes a photograph. The exam for life insurance is a 96-question exam with 16 pre-test questions, and you have two hours to complete it. The accident and health exam is multiple-choice, like the life exam, with 15 pre-test questions out of 95 total questions. This section also must be completed within two hours. A score of 70% is required to pass.
If you receive a passing score on your report, you will be able to apply for your license. You must submit fingerprints before applying, and you may apply within 60 days of getting fingerprinted at NIPR.com.
Contact Info: Hawaii Life And Health Insurance Licensing Requirements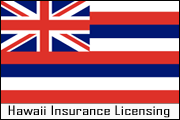 Hawaii Department of Insurance - Licensing DivisionAddress:
P.O. Box 3614 | 335 Merchant Street, Room 213 | Honolulu, HI 96811-3614
Phone:
808.586.2690
Website:
http://www.hawaii.gov/dcca/ins
Examination SchedulingProvider:
Pearson VUE
Phone:
1.800-274-2609
Website:
http://www.pearsonvue.com/hi/insurance/
Other Insurance Licensing Courses For Hawaii:
Disclaimer
This information is based on state laws and regulations, and is subject to change. ABTrainingCenter makes every effort to make sure this information is current and accurate, however, ABTrainingCenter is not engaged in rendering legal or professional advice and shall not be held responsible for inaccuracies contained herein.