Earn Your Indiana Life & Health Insurance License
Life And Health Insurance Courses In Indiana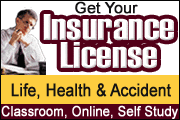 If finding the right life and health insurance licensing courses has been your barrier to earning your life and health insurance license in Indiana, your wait is over. ABTrainingCenter.com offers state-approved training courses that fulfill the pre-licensing requirement as well as thoroughly prepare you for the licensing exam.
What A Life And Health Insurance License In Indiana Can Do For You
When individuals and families think of insurance, two of the policies they look for first are life and health insurance policies. If you are an insurance agent in Indiana, it is essential that your agency offers these kinds of policies. By earning your life and health insurance license, you greatly enhance your status as an insurance broker and can dramatically expand your customer base.
Find Courses For Your Health And Life Insurance License In Indiana With Agent Broker Training Center
Agent Broker Training Center has an online course that you can take to fulfill the Indiana life and health pre-licensing requirement and earn your certificate of completion. These online courses have proven highly effective at helping candidates pass the test the first try with highly experienced instructors and a wide range of study materials covering all the necessary information in a digestible manner. Simply choose your course and study materials below, then click the link to register.
Recommended Indiana Life And Health Insurance Courses And Exam Prep Materials
To find Indiana Life and Health insurance licensing courses and exam prep materials, simply click on any of the recommended courses below or select "Life & Health" and your state from the "Licensing" section of the search box below. Good luck earning your Indiana Life & Health insurance license!
Find Seminars, Webinars, And Online Training In Your Area
Life And Health Insurance Licensing Info For Indiana Insurance Agents
Life And Health Insurance Pre-Licensing Requirements For Resident Insurance Agents Of Indiana
Like many states, Indiana has specific pre-licensing requirements that you must meet before sitting for the licensing exam. If you are planning on taking the life insurance licensing exam, you need 20 hours of pre-licensing education. The same is true for the accident and health exam. If you plan on taking the combined lines of life, accident and health, you will need 40 hours of pre-licensing education. Agent Broker Training Center has the courses you need to meet these requirements (see below).
Once you complete the pre-licensing course, you must demonstrate proficiency by passing a certification exam with a score of 70% or higher. After pre-licensing is complete, you can sign up for the exam through the Pearson VUE. You can sign up online or by calling them at 866-895-0496.
When you show up to take your exam, you will have to show your certificate of pre-licensing completion and a government-issued photo and signature I.D. You will also need your login and password that you generated at registration to log into the computer to take the test, so be sure to have these with you when you arrive for testing.
The combined Indiana Life, Accident and Health Insurance Examination is a two hour, 40-minute multiple choice exam with 160 questions. You will need score 70% correct or higher to receive a passing grade. After the exam, you will get a printout of the results. If you pass, you can apply for the license online at the National Insurance Producer Registry.
Contact Info: Indiana Life And Health Insurance Licensing Requirements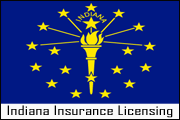 Indiana Department of Insurance - Licensing DivisionAddress:
311 W. Washington Street, Suite 300 | Indianapolis, IN 46204-2787
Phone:
317.232.2413
Fax:
317.232.5252
Email:
idoi@in.gov
Website:
https://www.in.gov/idoi/2446.htm
Examination SchedulingProvider:
Pearson VUE
Phone:
1-866-895-0496
Website:
https://home.pearsonvue.com/in/insurance
Good luck passing your Indiana Life and Health insurance licensing exam!
Other Insurance Licensing Courses For Indiana:
Disclaimer
This information is based on state laws and regulations, and is subject to change. ABTrainingCenter makes every effort to make sure this information is current and accurate, however, ABTrainingCenter is not engaged in rendering legal or professional advice and shall not be held responsible for inaccuracies contained herein.