Earn Your Iowa Insurance License
Best-Selling Training Courses:
Instructor-Led: Webinars
Online Training Courses
Life And Health Insurance Courses In Iowa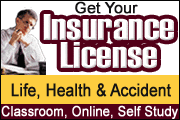 Life and health insurance are extremely valuable lines to be able to provide in Iowa. Perhaps you haven't had time to earn your life and health insurance license, or you had a partner who covered those lines. Maybe you are just getting started in your insurance career. Whatever your reason for putting it off, ABTrainingCenter.com can help you earn your life and health insurance license with training courses that covers all of the required information, so you can pass the exam quickly.
What A Health And Life Insurance License In Iowa Can Do For You
Health and life insurance are some of the most important policies you can offer to Iowans. Even if you are an established insurance provider in other lines, it will be difficult for you to create or maintain a thriving business without providing health or life insurance policies. The life and health insurance license will greatly improve your ability to serve your Iowa customers.
About Iowa Life And Health Insurance Courses From Agent Broker Training Center
Taking our life and health insurance exam prep course online will give you a huge advantage when you come in to take the licensing exam. Our course is taught by highly experienced professionals in the field and includes a large amount of information that covers all the material you may face on the test. You will receive useful supplementary material including sample questions and practice exams. To register for a course or order self-study materials, simply click the links below.
Recommended Iowa Life And Health Insurance Courses And Exam Prep Materials
To find Iowa Life and Health insurance licensing courses and exam prep materials, simply click on any of the recommended courses below or select "Life & Health" and your state from the "Licensing" section of the search box below. Good luck passing your Iowa Life & Health insurance licensing exam!
Best-Selling Training Courses:
Instructor-Led: Webinars
Online Training Courses
Find Seminars, Webinars, And Online Training In Your Area
Iowa Life And Health Insurance Licensing Info
Life And Health Insurance Pre-Licensing Requirements For Iowa Insurance Agents
Each state has their own pre-licensing and licensing regulations for life and health insurance, and for many states, that means required pre-licensing education. Iowa does not require pre-licensing education, but you should resist the temptation to skip the preparatory course for this reason — trying to prepare for this exam on your own could result in you skipping over critical information that you may need to pass on the first try.
Once you have prepared sufficiently and are ready to take the exam, you can schedule it with Pearson VUE, Iowa's state testing provider. Be prepared to pay an examination fee of $64.
Iowa Health And Life Insurance Exam Requirements
It is important for you to arrive for your Iowa health and life insurance licensing exam about 30 minutes early because there are a variety of sign-in procedures to navigate. You will need two forms of valid government-issued ID with signature. One must be a photo I.D.
The life insurance examination is a 92-question multiple choice test. Seventy-seven of the questions are actually scored. The accident and health insurance exam is a 95-question text with 80 questions scored. Each has a time limit of two hours and requires a score of 70% to pass.
You will take the test via computer, and it will be scored instantly. However, if you pass, you may have to wait up to three business days for the results to show up in the NIPR online system. You then have 90 days to apply for your license at the National Insurance Producer Registry website.
Contact Info: Iowa Life And Health Insurance Licensing Requirements
To help with your examination scheduling, we have provided below information on Iowa licensing requirements, its insurance department, and examination scheduling facilities.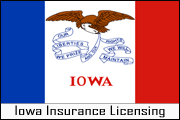 Iowa Department of Insurance - Licensing DivisionAddress:
330 Maple Street | Des Moines, IA 50319-0065
Phone:
515.281.7757
Fax:
515.281.3059
Website:
http://www.iid.state.ia.us
Examination SchedulingProvider:
Pearson VUE
Phone:
1-877.540.5825
Website:
http://www.pearsonvue.com/ia/insurance/
Good luck passing your Iowa Life & Health insurance licensing exam!
Other Insurance Licensing Courses For Iowa:
Disclaimer
This information is based on state laws and regulations, and is subject to change. ABTrainingCenter makes every effort to make sure this information is current and accurate, however, ABTrainingCenter is not engaged in rendering legal or professional advice and shall not be held responsible for inaccuracies contained herein.