Earn Your Kansas Life & Health Insurance License
Life and Health Insurance Courses in Kansas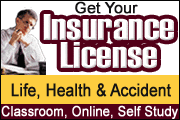 If you are interested in selling insurance in Kansas, life and health insurance are great places to start. The first step in being able to sell life and health insurance in Kansas is earning your life and health insurance license by taking the state licensing exam. The first step in passing that exam is by taking a preparatory course with ABTrainingCenter.com.
The Importance Of A Health And Life Insurance License In Kansas
A health and life insurance license in Kansas can be the start of a very lucrative insurance career. As insurance policies go, health and life insurance can be a very easy sell, since just about everyone wants to protect themselves and their families from health-related catastrophes. Although it is a good idea to have as many insurance lines as possible available, health and life alone can be the foundation for an insurance agency with great potential.
About Kansas Life And Health Insurance License Courses From Agent Broker Training Center
Because there are no pre-licensing requirements, it is extremely important you take our preparation course to prepare for the exam. Our online course makes studying easy with clear, comprehensive lessons that you can take according to your own schedule and additional study materials including sample questions and practice exams to get you comfortable with the test format. Sign up for your preparation courses and materials by clicking the links below.
Recommended Kansas Life And Health Insurance Courses And Exam Prep Materials
To find Kansas Life and Health insurance licensing courses and exam prep materials, simply click on any of the recommended courses below or select "Life & Health" and your state from the "Licensing" section of the search box below. Good luck earning your Kansas Life & Health insurance license!
Find Seminars, Webinars, And Online Training In Your Area
Life And Health Insurance Licensing Info For Kansas Insurance Agents
Life And Health Insurance Pre-Licensing Requirements For Kansas Insurance Agents
Each state establishes its own pre-licensing requirements, and Kansas does not require you take a pre-licensing course before sitting for the exam. This can often present a problem for those wishing to take the licensing exam, as they are not sure what or how much to study. You will not have this problem thanks to life and health insurance license preparatory courses from Agent Broker Training Center.
Although there is no pre-license course required, Kansas does have fairly elaborate fingerprinting and criminal background check requirement to sit for the licensing exam. Start by filling out and submitting a fingerprint card request form. Then fill out the Waiver Agreement and Statement form.
When you get your fingerprint card, fill it out and take it to the local police station or other law enforcement agency to get your prints taken. Bring the waiver agreement, a photo I.D. and an envelope made out to the Kansas Insurance Department, ATTN: Producer Licensing, 420 SW 9th St., Topeka, KS 66612. Sign the card, and have the officer who takes the prints sign the card and fill out the appropriate section of the waiver form. Give the officer the stamped envelope to send in the prints. Make sure you have enough postage for delivery confirmation.
The next step is to submit the NAIC Uniform Application for an Individual Insurance Producer License. Finally, you can schedule your exam with Pearson VUE. You can expect to pay a $64 exam fee.
Kansas Life Insurance Exam Requirements
When you get to the exam, make sure you have a government-issued photo I.D. like a driver's license as well as a backup I.D. The combined Life, and Accident & Health Insurance Examination is 156 questions of which 16 are pre-test questions. You will have 2.5 hours to complete the multiple-choice exam. If you get a 70% or higher on the test, you will receive a score report indicating that you have passed and giving you instructions on what to do next to receive your license.
Contact Info: Kansas Life And Health Insurance Licensing Requirements
To help with your examination scheduling, we have provided below information on Kansas licensing requirements, its insurance department, and examination scheduling facilities.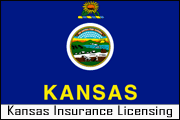 Kansas Department of Insurance - Licensing DivisionAddress:
420 S.E. 9th Street | Topeka, KS 66612-1678
Phone:
785.296.7862
Fax:
785.368.7019
Email:
licensing@ksinsurance.org
Website:
http://www.ksinsurance.org
Examination SchedulingProvider:
Pearson VUE
Phone:
1.888-204-6255
Website:
http://www.pearsonvue.com/ks/insurance/
Good luck passing your Kansas Life & Health insurance licensing exam!
Other Insurance Licensing Courses For Kansas:
Disclaimer
This information is based on state laws and regulations, and is subject to change. ABTrainingCenter makes every effort to make sure this information is current and accurate, however, ABTrainingCenter is not engaged in rendering legal or professional advice and shall not be held responsible for inaccuracies contained herein.