Earn Your Louisiana Life And Health Insurance License
Life And Health Insurance Courses In Louisiana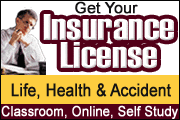 About Louisiana Insurance Licensing
As in most states, before you can sell life or health insurance in Louisiana, you need a health or life insurance license. However, there are specific guidelines on how to obtain such a license. At ABTrainingCenter.com, we can help you prepare for the Louisiana health or life insurance exam.
The Benefits Of Earning A Louisiana Life And Health Insurance License
As an insurance provider in Louisiana, you want to be able to offer as many services to potential customers as possible. Taking care of oneself and one's family are often a person's first priority when it comes to insurance, which means life and health insurance are priorities. To be a successful health insurance broker in this state, you want to be able to advertise that you can provide these policies for your customers.
Louisiana Health And Insurance License Courses With Agent Broker Training Center
Agent Broker Training Center offers prelicensing training and certification exams for life and health insurance licensing. Our online programs are the best way for you to learn and absorb all the material needed to pass both the certification exam and the actual life and health insurance licensing exam. Look over the courses offered in the links below to find the life and health insurance courses that are right for you as you pursue a life and health insurance license in Louisiana.
Recommended Louisiana Life And Health Insurance Licensing Courses And Exam Prep Materials
To find Louisiana Life and Health insurance licensing courses and exam prep materials, simply click on any of the recommended courses below or select "Life & Health" and your state from the "Licensing" section of the search box below. Good luck passing your Louisiana Life & Health insurance licensing exam!
Find Seminars, Webinars, And Online Training In Your Area
Life And Health Insurance Licensing Info For Louisiana Insurance Agents
Life And Health Insurance Pre-Licensing Requirements For Louisiana Insurance Agents
As in many other states, prelicensing is required before you can take the exam for the Louisiana life or health insurance license. Specifically, you must take approved courses that amount to 20 hours of training for either life insurance or health insurance. For a combined lines life, accident and health license, 40 hours of coursework is needed.
Before you can take your licensing exam, you also will need to prove you have taken the required coursework and absorbed the information required by taking a certification exam at the end of the course. A passing score of 70 percent or higher is required to receive certification. You will be presented with a certificate of completion upon achieving this score.
Louisiana Life And Health Insurance Exam Requirements
To receive your license, you must pass the appropriate licensing exam. You can contact PSI Exams to schedule your exam any day of the week. When you arrive for your exam, you must have your certificate of completion with you as well as a valid government-issued photo I.D. Everything else will be provided for you at the site.
If you are taking the life only or accident and health only exam, you will have a 100-question multiple-choice exam to complete. If you are doing the combined lines, you will have a 150-question exam. Either way, a score of 70 percent is required for passing and licensing.
Once you pass the exam, you will have one year to apply for your license. Contact the Louisiana Department of Insurance online or at 225-342-0860 to submit your application.
Contact Info: Louisiana Life And Health License Requirements
To help with your examination scheduling, we have provided below information on Louisiana licensing requirements, its insurance department, and examination scheduling facilities.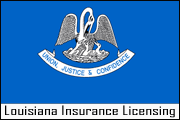 Louisiana Department of Insurance - Licensing DivisionAddress:
P.O. Box 94214 | Baton Rouge, LA 70804-9214
Phone:
225.342.0860
Fax:
225.342.3754
Website:
http://www.ldi.la.gov
Examination SchedulingProvider:
PSI Exams
Phone:
1.800.733.9267
Website:
http://www.psiexams.com
Good luck passing your Louisiana Life And Health insurance licensing exam!
Other Insurance Licensing Courses For Louisiana:
Disclaimer
This information is based on state laws and regulations, and is subject to change. ABTrainingCenter makes every effort to make sure this information is current and accurate, however, ABTrainingCenter is not engaged in rendering legal or professional advice and shall not be held responsible for inaccuracies contained herein.