Earn Your Maine Life & Health Insurance License
Life And Health Insurance Courses In Maine
About The Life And Health Insurance License In Maine
Licensing is a requirement for those wishing to sell life or health insurance in Maine, and the state has specific rules and regulations to obtain your license. ABTrainingCenter.com can help you navigate those rules and provide you with the information you need to know to pass the Maine life and health license examination - a critical element for being granted the life and health insurance license.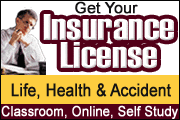 What A Maine Health And Life Insurance License Can Do For You
When people think of the most important lines of insurance, health and life are often at the top. Before someone can think of protecting anything else, they need to know that they and their family are protected. By obtaining a Maine health and life insurance license, you can become the primary source for Maine residents seeking a reliable life or health insurance plan. Health and life insurance can and often should be the cornerstone of your insurance business, and it all starts with earning your Maine life and health insurance license.
About Our Training Courses And Exam Prep Materials For A Maine Health And Life Insurance License
The only way to pass the health and life insurance license exam is with sufficient study. Without prior knowledge of the exam, it can be difficult to know what to cover and how to cover it. Agent Broker Training Center takes out all the guesswork, with comprehensive lessons taught by experienced instructors in the field and practice questions that simulate the real test questions you will face. An AB Training Center course is the perfect study tool for your upcoming Maine life and health licensing exam.
Recommended Maine Life And Health Insurance Courses And Exam Prep Materials
To find Maine Life and Health insurance licensing courses and exam prep materials, simply click on any of the recommended courses below or select "Life & Health" and your state from the "Licensing" section of the search box below. Good luck passing your Maine Life & Health insurance licensing exam!
Find Seminars, Webinars, And Online Training In Your Area
Life And Health Insurance Licensing Info For Maine Insurance Agents
Life And Health Insurance Pre-Licensing Requirements For Maine Insurance Agents
Although many states have prelicensing requirements to meet before sitting for the life and health insurance licensing exam, Maine does not. All you really need to do to obtain a combined lines life, health and accident insurance license in Maine is to pass the exam and apply for the license.
What this means, however, is that you will be responsible for your own preparation for the exam, and without a prelicensing requirement, it is easy to go in underprepared. That's why it is so important to take the Agent Broker Training Center online Life and Health Insurance Exam Prep Course before even considering sitting down for the exam.
Maine Health And Life Insurance Exam Requirements
Once you have taken your course and are ready for the exam, you can contact Pearson VUE to schedule your exam. Be prepared to pay a $77 fee.
On the day of the exam, bring two forms of government-issued identification that include your picture, name and signature.
The combined Maine life, accident and health insurance examination is 161 total questions that are multiple-choice. You need 70 percent or higher to pass. Once you are informed that you have passed the exam, go online to the National Insurance Producer Registry to submit your license application.
Contact Info: Maine Life And Health License Requirements
To help with your examination scheduling, we have provided below information on Maine licensing requirements, its insurance department, and examination scheduling facilities.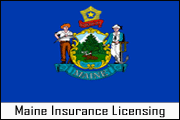 Maine Department of Insurance - Licensing DivisionAddress:
34 State House Station | Augusta, ME 04333-0035
Phone:
207.624.8475
Fax:
207.624.8599
Website:
http://www.maineinsurancereg.org
Examination SchedulingProvider:
Pearson VUE
Phone:
1.800.274.4959
Website:
http://www.pearsonvue.com/me/insurance/
Good luck passing your Maine Life And Health insurance licensing exam!
Other Insurance Licensing Courses For Maine:
Disclaimer
This information is based on state laws and regulations, and is subject to change. ABTrainingCenter makes every effort to make sure this information is current and accurate, however, ABTrainingCenter is not engaged in rendering legal or professional advice and shall not be held responsible for inaccuracies contained herein.