Earn Your Maryland Life & Health Insurance License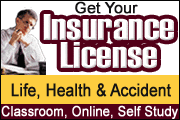 Life And Health Insurance Courses In Maryland
About The Life And Health Insurance License In Maryland
Maryland state law requires that all insurance brokers wishing to sell life or health insurance policies must be properly licensed. The Maryland life insurance licensing process has several steps, including prelicensing and a licensing exam. If you are interested in selling life or health insurance as a resident of the state of Maryland, ABTrainingCenter.com can help you with courses that can allow you to meet your prelicensing requirement as well as prepare you for your licensing exam.
What A Maryland Health And Life Insurance License Can Do For You
Life and health insurance are two of the most basic types of insurance you can offer. If you are presenting yourself as a trusted insurance provider to the Maryland community, you will definitely want to make sure you or someone in your office is licensed to sell health and life insurance. Having these insurance types available could very well be the key to your insurance business success.
About Our Maryland Health And Life Insurance License Courses And Exam Prep Materials
You can find the coursework and certification exam you need by choosing the appropriate Agent Broker Training Center link below. We offer both online and textbook pre-licensing courses to fit with your preferred style of learning. If you are willing to commit to the number of hours of study required to fully understand this material, these courses will give you a great edge when trying to pass your licensing exam, in addition to fulfilling prelicensing requirements.
Even if you prefer to learn on your own, you will want to look into AB Training Center courses and exam prep materials for your Maryland life and health insurance licensing exam. We offer textbooks for self-study, as well as online classes. We have all the information that is likely to appear on the test and present it in comprehensive, digestible ways, including tons of sample exam questions. There is no better way to prepare for this exam. Here is just some of what you receive:
A downloadable textbook that includes information on Massachusetts insurance laws
Class Notes and Audio Review
OnDemand Online Video Review that can be viewed as frequently as you like
Loads of practice exam questions
Recommended Maryland Life And Health Insurance License Courses And Exam Prep Materials
To find Maryland Life and Health insurance licensing courses and exam prep materials, simply click on any of the recommended courses below or select "Life & Health" and your state from the "Licensing" section of the search box below. Good luck passing your Maryland Life & Health insurance licensing exam!
Top FAQs
Do I Need A License To Sell Insurance In Maryland?
Yes. You must be licensed by the state in which they wish to sell insurance.
How Do I Become An Insurance Agent In Maryland?

You must take your state-required pre-licensing course, then pass your state's licensing exam. After passing your exam, you typically must meet any basic state requirements such as a minimum age, passing a background check, etc.
What Type Of Courses Do You Offer For Earning My Maryland Insurance License?

We offer online and Instructor-led courses for taking your state's required pre-licensing course and earning your Maryland Insurance license.
What Does A Maryland Insurance Agent Typically Do?

Life And Health Insurance Agents sell Life, Disability, Long Term Care, Medicare, and other policies to groups and individuals. You'll advise clients on what policies best suit their needs, tailor policies to fit their requirements, and help customers when they have questions or need to change their coverages.
Find Seminars, Webinars, And Online Training In Your Area
Life And Health Insurance Licensing Info For Maryland Insurance Agents
Life And Health Insurance Pre-Licensing Requirements For Maryland Insurance Agents
As is the case for many states, there is a prelicensing requirement you must meet before you can take the Maryland life or health licensing exam. This requirement includes 20 hours of approved prelicensing study for each line, or 40 hours for combined life and accident & health. Once you complete your courses, you will need to pass an exam demonstrating your knowledge. A score of 70 percent or higher is required for certification.
Maryland Health And Life Insurance Exam Requirements
Once you pass your prelicensing exam, you will receive a certificate of completion. You must now schedule your licensing exam with PSI within six months. A $70 examination fee will be required.
The combined lines Maryland life, health and accident insurance examination is 130 multiple-choice questions that you will have 3.5 hours to answer. You must get at least a 70 percent to pass. Make sure you bring your certificate of completion of prelicensing and two forms of valid government-issued I.D., and ensure at least one of them is a photo I.D.
You will receive a score report after completing your exam. After passing, you can apply at the National Insurance Producer Registry for your license. Be prepared to pay a $54 licensing fee.
Contact Info: Maryland Life And Health Insurance License Requirements
To help with your examination scheduling, we have provided below information on Maryland licensing requirements, its insurance department, and examination scheduling facilities.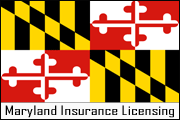 Maryland Insurance Administration - Licensing UnitAddress:
200 St. Paul Place, Suite 2700| Baltimore, MD 21202
Phone:
800.492.6116
Website:
http://www.mdinsurance.state.md.us
Examination SchedulingProvider:
PSI licensure: certification
Phone:
1.800.733.9267
Website:
http://candidate.psiexams.com/index.jsp
Good luck passing your Maryland Life And Health insurance licensing exam!
Other Insurance Licensing Courses For Maryland:
Disclaimer
This information is based on state laws and regulations, and is subject to change. ABTrainingCenter makes every effort to make sure this information is current and accurate, however, ABTrainingCenter is not engaged in rendering legal or professional advice and shall not be held responsible for inaccuracies contained herein.