Minnesota Life & Health Insurance Licensing
Earn Your Minnesota Life And Health Insurance License
About The Life And Health Insurance License In Minnesota
To sell Minnesota life insurance or Minnesota health insurance, you need the appropriate licensing. This means you will not only have to pass a life and/or health licensing exam, but you will have to fulfill prelicensing requirements as well. You can find all of the information you need for your license as well as all the required courses at ABTrainingCenter.com.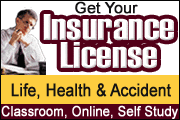 What A Minnesota Life And Health Insurance License Can Do For You
Along with Life And Health insurance, the primary lines of insurance that people tend to seek are life and health. Virtually everyone's priority is their well-being and the well-being of their families, and they need the peace of mind that life and health insurance brings.
As a licensed Minnesota life and health insurance broker, you can provide that peace of mind, and in so doing, build a successful insurance practice. If you want to have a thriving and successful insurance business in Minnesota, it will often start with a life and health insurance license.
Life And Health Insurance Courses In Minnesota With Agent Broker Training Center
Agent Broker Training Center provides both in-person seminars and online courses that fulfill the prelicensing life and health requirements. These courses are also the best way for you to study for your licensing exam. They provide comprehensive information, realistic practice test questions and highly qualified instructors. Look through the links below and click the one that corresponds to the course you need to get started.
Recommended Minnesota Life And Health Insurance Courses And Exam Prep Materials
To find training courses and exam prep materials for earning your Minnesota Life and Health insurance license, simply click on any of the recommended courses below or select "Life & Health" and your state from the "Licensing" section of the search box below. Good luck passing your Minnesota Life & Health insurance licensing exam!
Find Seminars, Webinars, And Online Training In Your Area
Life And Health Insurance Licensing Info For Minnesota Insurance Agents
Life And Health Insurance Pre-Licensing Requirements For Minnesota Insurance Agents
But before you can earn that license, you will need to fulfill Minnesota's prelicensing requirements. Minnesota requires that you take an approved prelicensing course before each line of insurance licensing you want to take. If you are just pursuing a life insurance license or just an accident and health license, you will need 20 hours of coursework. If you are looking for the combined lines license, you will need to put in 40 hours.
Whichever you choose, with Agent Broker Training Center, you will find the coursework you need by clicking the relevant link below. You will also find the approved certification exam that verifies successful completion of your training.
Minnesota Health And Life Insurance Exam Requirements
To actually receive your license, you need to pass the licensing exam. Contact Pearson VUE Exams to schedule. Be prepared to pay the $39 exam fee.
On the day of the test, you will need to bring your certificate of completion that you will get by achieving a score of 70 percent or higher on the prelicensing exam. You will also be required to bring two pieces of signature I.D., and the primary one must be a government-issued photo I.D.
If you are just seeking a Minnesota life insurance license or just accident and health, be prepared for a two-hour test with 90 questions. If you are looking for combined Minnesota life, accident and health, you will have a three-hour exam with 145 questions. Either way, you need a 70 percent or higher pass.
If you pass, you will be informed right away. You can then submit your fingerprints with the Minnesota Department of Insurance and apply for the license by visiting Sircon online.
Contact Info: Minnesota Life And Health License Requirements
To help with your examination scheduling, we have provided below information on Minnesota licensing requirements, its insurance department, and examination scheduling facilities.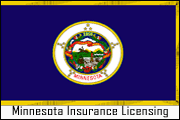 Minnesota Department of Insurance - Licensing DivisionAddress:
85 7th Place E. | St. Paul, MN 55101
Phone:
651.539.1500
Fax:
651.284.4107
Email:
licensing.commerce@state.mn.us
Website:
https://mn.gov/commerce/industries/insurance/licensing/insurer-licensing
Examination SchedulingProvider:
Pearson VUE
Phone:
651.539.1599
Website:
https://home.pearsonvue.com/
Good luck passing your Minnesota Life And Health insurance licensing exam!
Other Insurance Licensing Courses For Minnesota:
Disclaimer
This information is based on state laws and regulations, and is subject to change. ABTrainingCenter makes every effort to make sure this information is current and accurate, however, ABTrainingCenter is not engaged in rendering legal or professional advice and shall not be held responsible for inaccuracies contained herein.