Life And Health Insurance Courses In Mississippi
Earn Your Mississippi Life & Health License With Our Exam Prep Materials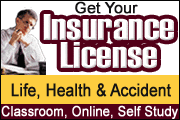 How To Earn Your Life And Health Insurance License In Mississippi
As in other states, Mississippi insurance brokers must be licensed in the type of insurance they plan to sell. To obtain this license for life and health insurance in Mississippi, there are some basic steps to follow, including pre-licensing and a licensing exam. At ABTrainingCenter.com, you can find the requirements for obtaining your license as well as how to get approved pre-licensing.
What A Mississippi Life And Health Insurance License Can Do For You
When people think of the insurance they absolutely need for themselves and their families, life and health insurance usually top the list. Most people understand that you cannot have peace of mind unless you know you are protected in the case of a medical emergency. With a Mississippi life and health insurance license, you are in the unique position of being able to provide that peace of mind for Mississippi residents and can have the opportunity to build a thriving practice.
About Our Mississippi Life And Health Insurance Courses
You will find all the courses you need for individual life and health pre-licensing or combined lines pre-licensing through Agent Broker Training Center below. These courses are presented online in an easy-to-follow format. They are a great way to both fulfill your insurance pre-licensing requirement and prepare you to pass the licensing exam as early as possible.
Recommended Mississippi Life And Health Insurance Courses And Exam Prep Materials
To find Mississippi Life and Health insurance licensing courses and exam prep materials, simply click on any of the recommended courses below or select "Life & Health" and your state from the "Licensing" section of the search box below. Good luck earning your Mississippi Life & Health Life & Health insurance license!
Find Seminars, Webinars, And Online Training In Your Area
Life And Health Insurance Licensing Info For Mississippi Insurance Agents
Mississippi Life And Health Insurance Pre-Licensing Requirements For Resident Insurance Agents
Mississippi is one of several states that does require pre-licensing before you can take the licensing exam. You will need to take an approved course equivalent to 20 hours of study for each line you choose to pursue - 20 for life and 20 for accident & health.
Once complete, you must prove you have taken the coursework and absorbed the information by passing a pre-licensing certification with a score of 70 percent or better. You can find information on how to get the pre-licensing you need through Agent Broker Training Center by clicking through the links below.
Mississippi Health And Life Insurance Exam Requirements
After passing pre-licensing, you will get a certificate of completion. Hold on to it. Your next step is to schedule your exam with Pearson VUE.
On your chosen testing day, show up to the site with two forms of valid, government-issued I.D. that include your name, signature and photograph. You must also have your certificate of completion with you.
The life producer examination is a 75-question multiple-choice test. You have two hours to complete it, and a passing score is 65 percent. The accident & health examination is also 75 questions. You will have two hours to complete it and will need to score at least a 65 percent to pass. If you pass, you will be notified immediately and can then apply for your license online through the National Insurance Producer Registry or Sircon.
Contact Info: Mississippi Life And Health Licensing
To help with your examination scheduling, we have provided below information on Mississippi licensing requirements, its insurance department, and examination scheduling facilities, as follows:
Mississippi Department of Insurance - Licensing Division
Address: P.O. Box 79 | Jackson, MS 39205-0079
Phone: 601.359.3582
Fax: 601.359.1951
Website: https://www.mid.ms.gov/licensing/licensing-examinations.aspx https://www.mid.ms.gov/licensing/licensing-examinations.aspx

Examination Scheduling
Provider:Pearson Vue
Phone:888-293-4222
Website: http://www.pearsonvue.com/ms/insurance

Good luck passing your Mississippi Life And Health insurance licensing exam!
Other Insurance Licensing Courses For Mississippi:
Disclaimer
This information is based on state laws and regulations, and is subject to change. ABTrainingCenter makes every effort to make sure this information is current and accurate, however, ABTrainingCenter is not engaged in rendering legal or professional advice and shall not be held responsible for inaccuracies contained herein.