Earn Your Missouri Life & Health Insurance License
Best-Selling Training Courses:
Instructor-Led: Webinars
Online Training Courses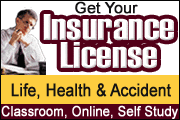 Life And Health Insurance Courses In Missouri
About The Life And Health Insurance License In Missouri
If you want to sell life or health insurance in Missouri, you want to make sure you are observing all the necessary regulations for selling insurance in this state. This means to sell life and health insurance, you need to make sure you have the required licenses. With ABTrainingCenter.com, we can tell you what requirements you need to meet to obtain a health or life insurance license in Missouri, as well as how to best prepare for the life and health insurance licensing exam.
How You Can Benefit From A Health And Life Insurance License In Missouri
Health and life insurance are two of the primary types of insurance most people seek. While there are many types of insurance people use to protect themselves, it all starts with protecting one's self and one's family. That's where you come in. With your health and life insurance license in Missouri, you are empowered to provide your Missouri neighbors with the type of protection they need the most. At the same time, you give yourself the best opportunities to sell as much insurance as possible.
About Missouri Life And Health Insurance License Courses From Agent Broker Training Center
Agent Broker Training Center courses and self-study materials take the place of pre-licensing courses when it comes to preparing you for the Missouri health or life insurance licensing exam. These study materials are designed to cover everything you are likely to find on the test, including practice questions that simulate actual test questions. To get the preparation you need before taking your life or health licensing exam, click the appropriate links below to sign up.
Recommended Missouri Life And Health Insurance Courses And Test Prep Materials
To find Missouri Life and Health insurance licensing courses and exam prep materials, simply click on any of the recommended courses below or select "Life & Health" and your state from the "Licensing" section of the search box below. Good luck earning your Missouri Life & Health Life & Health insurance license!
Best-Selling Training Courses:
Instructor-Led: Webinars
Online Training Courses
Find Seminars, Webinars, And Online Training In Your Area
Life And Health Insurance Licensing Info For Missouri Insurance Agents
Missouri Life And Health Insurance Pre-Licensing Requirements For Resident Insurance Agents
If you are seeking a life or health insurance license in Missouri, you will be happy to know that you do not have to complete any pre-licensing coursework or training to sit for the licensing exam. However, if you try to take the exam without any kind of study guidance, you may be in for a rude awakening. We recommend signing up for an Agent Broker Training Center life and health insurance prep course or self-study materials. This will help prepare you for the test in a way that would be very difficult to do on your own.
Missouri Health And Life Insurance Exam Requirements
After studying for enough hours to prepare you for the test, contact Pearson VUE online to register. The fee for the examination will be $39 for each line by itself or $49 for the combined life, health and accident license exam.
When you arrive for your test, be sure you have two valid forms of I.D. with you. The primary one should be a government-issued photo I.D. such as a passport or driver's license.
For either the Missouri life insurance examination or the accident and health examination, you will have two hours to complete a 110-question multiple-choice exam with a 70 percent or better. To pass the combined life, accident and health license exam, you will need at least a 70 percent on a 170-question exam. You will have two and a half hours to complete this exam.
Contact Info: Missouri Life And Health License Requirements
To help with your examination scheduling, we have provided below information on Missouri licensing requirements, its insurance department, and examination scheduling facilities.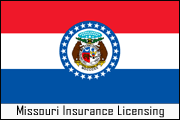 Missouri Department of Insurance - Licensing DivisionAddress:
P.O. Box 690 | Jefferson City, MO 65102-0690
Phone:
573.751.3518
Fax:
573.526.3416
Email:
licensing@insurance.mo.gov
Website:
https://insurance.mo.gov/agents
Examination SchedulingProvider:
Pearson VUE
Phone:
1.866.274.4740
Website:
http://www.pearsonvue.com/mo/insurance/
Good luck passing your Missouri P&C insurance licensing exam!
Other Insurance Licensing Courses For Missouri:
Disclaimer
This information is based on state laws and regulations, and is subject to change. ABTrainingCenter makes every effort to make sure this information is current and accurate, however, ABTrainingCenter is not engaged in rendering legal or professional advice and shall not be held responsible for inaccuracies contained herein.