If you are interested in selling health or life insurance, you must first receive the life or health insurance license. Keep reading to find out what you need to know to earn that license, including what pre-licensing requirements Nebraska has for this insurance type and what the exam is like. You will also find courses to prepare you for the life and health licensing exams through ABTrainingCenter.com.
When people think of crucial insurance policies, health and life insurance policies usually top the list. Most people don't worry about other types of insurance until they first know that they and their families are covered in case of a health emergency. That's why if you want to maximize your insurance business in Nebraska, a health or life insurance license should be one of the first things you consider obtaining.
Agent Broker Training Center has online courses and self-study materials that are perfect for people who are preparing for their life or health insurance licensing exam. These materials cover everything you are likely to see on your exam, including realistic practice questions. The courses are prepared by experts in the field and can help you pass the exam as quickly as possible. Click the link below that corresponds to the study assistance you need.
To find Nebraska Life and Health insurance licensing courses and exam prep materials, simply click on any of the recommended courses below or select "Life & Health" and your state from the "Licensing" section of the search box below. Good luck passing your Nebraska Life & Health Life & Health insurance licensing exam!
Nebraska Life And Health Insurance Licensing Info For Resident Insurance Agents
Life And Health Insurance Pre-Licensing Requirements For Nebraska Insurance Agents
In Nebraska, there are no pre-licensing requirements to meet before you can take the health or life insurance licensing exam.
However, do not fall into the trap of going into this exam unprepared. Because there is no pre-licensing to prepare you, you are responsible for your own study program. Make sure this program is sufficient to prepare you for the test by signing up for online training courses or other resources from Agent Broker Training Center. You'll find what you need in the links above.
Nebraska Health And Life Insurance Exam Requirements
After doing your chosen coursework and putting in many hours of study with AB Training Center materials, you should be ready for your exam. You can schedule your exam online with Prometric.
If you are taking just the life and annuities or just the accident and health or sickness exam, you will have to pay a $57 registration fee. If you are taking the combined lines exam, your fee is $64. On the day of your test, make sure you have a valid picture I.D. from a government agency with you, or you will not be admitted.
The life and annuities examination is a 100-question test that covers life insurance and annuities basics. It is a two-hour, multiple-choice exam. The accident and health or sickness examination is also 100 multiple-choice questions that you have two hours to complete. If you choose to take the combined lines, life and annuities, accident and health or sickness, you will have two and a half hours to complete 150 questions. All of these exams require at least a 70 percent to pass.
You will find out your score on the screen right away. Once you pass, you can visit the National Insurance Producer Registry to apply for your license.
Contact Info: Nebraska Life And Health License Requirements
To help with your examination scheduling, we have provided below information on Nebraska licensing requirements, its insurance department, and examination scheduling facilities.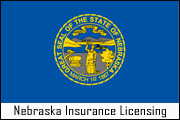 Nebraska Department of Insurance - Licensing DivisionAddress:
Terminal Building | 941 O Street, Suite 400 | Lincoln, NE 68508-3639
Phone:
402.471.4913
Fax:
402.471.6559
Email:
licensing@doi.state.ne.us
Website:
http://www.doi.ne.gov
Examination SchedulingProvider:
Prometric
Phone:
1.800.853.4753
Website:
http://www.prometric.com/Nebraska/Insurance.htm
Good luck passing your Nebraska Life & Health insurance licensing exam!
Other Insurance Licensing Courses For Nebraska:
Disclaimer
This information is based on state laws and regulations, and is subject to change. ABTrainingCenter makes every effort to make sure this information is current and accurate, however, ABTrainingCenter is not engaged in rendering legal or professional advice and shall not be held responsible for inaccuracies contained herein.