If you plan to sell life and health insurance in Nevada, the first step is to obtain a life or health insurance license. If you are not sure where to start, you've come to the right place. ABTrainingCenter.com can guide you through all the requirements for your Nevada life or health insurance license, including state-approved classes to help you meet pre-licensing requirements.
A health or life insurance license in Nevada is a great way to get your insurance business started off on the right foot. Virtually every family needs life and health insurance to protect them, and once you have your license, you can be the broker that provides policies to all those individuals and families. If you are already selling other types of insurance, a health and life insurance license is a great way to expand your offerings and increase your client base.
Agent Broker Training Center offers pre-licensing courses, certification exams and self-study materials for your life or health insurance licensing needs. These are state-approved courses that have high success rates in preparing students to pass their state life and health licensing exams. Find the courses or materials corresponding to your needs below and click the link to register.
To find Nevada Life and Health insurance licensing courses and exam prep materials, simply click on any of the recommended courses below or select "Life & Health" and your state from the "Licensing" section of the search box below. Good luck passing your Nevada Life & Health insurance licensing exam!
Life And Health Insurance Licensing Info For Nevada Insurance Agents
Nevada Life And Health Insurance Pre-Licensing Requirements
Although not all states require pre-licensing to obtain a life or health insurance license, Nevada is one of those states that does. If you are planning to take just the life or health insurance exam, you will need an approved pre-licensing course equivalent to 20 hours of study. If you are taking the combined lines exam, you will need 40 hours. Fortunately, whichever you choose, Agent Broker Training Center has the coursework and certification exam you need below.
The certification exam is a test given at the end of your coursework designed to demonstrate your mastery of the material. You will need a score of 70 percent or higher on this test to get your certificate of completion of pre-licensing.
Nevada Health And Life Insurance Exam Requirements
Once you have finished pre-licensing and feel prepared to take the exam, visit Pearson VUE online to register. If you are just taking life or health, the examination fee is $51. If you are taking the combined exam, it is $61.
Nevada is one of those states that also requires fingerprinting for an insurance license. You can get digital fingerprints through IdentoGO by MorphoTrust, USA.
On the day your exam is scheduled, be sure to bring your certificate of pre-licensing completion and two forms of valid I.D., including at least one government-issued picture I.D.
If you are taking the life insurance examination only, your multiple-choice exam will be 97 questions. You will have 75 minutes for the general portion and 45 minutes for state law questions. If you are taking the health insurance examination only, you will have 105 questions with the same time constraints.
The combined life and health insurance exam is 170 total questions. You will have three hours and 35 minutes to complete this exam. All of the exams require at least an 80 percent to pass.
You will find out right away if you passed. Once you receive a passing score, you can apply for your license with Sircon.
Contact Info: Nevada Life And Health License Requirements
To help with your examination scheduling, we have provided below information on Nevada licensing requirements, its insurance department, and examination scheduling facilities.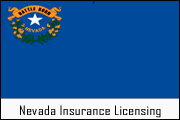 Nevada Department of Insurance - Licensing DivisionAddress:
788 Fairview Drive, #300 | Carson City, NV 89701-5491
Phone:
775.687.0700
Fax:
775.687.0787
Website:
http://doi.state.nv.us
Examination SchedulingProvider:
Pearson VUE
Phone:
1.800-274-2609
Website:
http://www.pearsonvue.com/nv/insurance/
Good luck passing your Nevada Life & Health insurance licensing exam!
Other Insurance Licensing Courses For Nevada:
Disclaimer
This information is based on state laws and regulations, and is subject to change. ABTrainingCenter makes every effort to make sure this information is current and accurate, however, ABTrainingCenter is not engaged in rendering legal or professional advice and shall not be held responsible for inaccuracies contained herein.