If you wish to pursue a career in selling life and health insurance in Oregon, you must begin by obtaining a life and health insurance license. If you aren't sure where to begin, start right here! ABTrainingCenter.com can tell you what pre-licensing requirements you need to fulfill, how to fulfill them, what to expect on the licensing exam and how to apply for a life and health insurance license in Oregon.
Many insurance brokers will tell you that life and health insurance are the cornerstones of their business. If you have a life and health insurance license, you are likely to find yourself in high demand as an insurance agent in Oregon.
So if you are searching for training courses to earn your Oregon Life & Health insurance license, then you've come to the right place, as we offer pre-licensing courses, study guides, practice tests, and exam prep materials to help you earn your Oregon Life & Health insurance licenses.
Below is information and links for you to read about specific requirements for earning your license, as well as links for our best-selling Oregon Life & Health insurance licensing courses.
To find Oregon insurance licensing courses, study guides, practice exams, and exam prep materials, simply click on any of the recommended courses below or select your desired license type and your state from the "Licensing" section of the search box below. Good luck becoming an Oregon insurance agent!
How To Become An Oregon Life & Health Insurance Agent
Below is information on the licensing requirements for becoming an Oregon Life & Health Insurance Agent, its insurance department, test requirements, and examination scheduling facilities.
Life And Health Pre-Licensing Requirements For Oregon Resident Agents
You must fulfill specific pre-licensing requirements for life and health insurance in Oregon. You will have to log 20 hours of pre-licensing with a state-approved course for each line you are pursuing. For both life and health, you will need 40 hours of pre-licensing coursework.
Get your required pre-licensing hours by signing up for an online course below with Agent Broker Training Center. We can provide a complete pre-licensing education as well as the exam to certify that you have completed the program.
What Is On The Oregon Life and Health Insurance Exam?
Since Life & Health licensing is state specific, your exam will include questions on your state's insurance regulations for the product(s) you want to sell. Your exam covers topics such as the following:
Insurance regulations
Life insurance basics
Health insurance basics
Disability insurance
Group health insurance
Policy Provisions
Tax considerations for health insurance
State regulations
For Oregon licensing, you should contact PSI Exams to register for the Oregon life and health insurance licensing exam. Once you get to the exam on your scheduled date, be prepared to present two forms of current government-issued I.D. like a driver's license and a passport, as well as your certificate indicating successful completion of your pre-licensing requirement. You have three exam options in Oregon:
Life Insurance: 100 questions, 2 hours
Health Insurance: 100 questions, 2 hours
Life, Accident and Health Insurance: 150 questions, 2 hours and 45 minutes
Whichever you take, you must achieve a 70 percent success rate to pass. You will get a score report that will show you if you have passed.
Oregon requires fingerprints for a background check before you can receive your license. The fingerprinting takes place at the test site after you pass, so do not forget to get fingerprinted before you leave. After you pass and are fingerprinted, you can apply for your license online at NIPR.
Tips For Studying For Your Life And Health Insurance License Exam
The following tips for studying for your Life and Health Insurance License exam should help you pass your exam on the first try.
Step 1: Make A Commitment - And Stick To It
Whether you plan to study full- or part-time, start by taking a few minutes to plan how study process. Will you spend an hour every evening? Spend all day every Tuesday? Have a mentor work with you? Regardless of what you plan, make sure you stick to it.
Step 2: Develop A Study Plan
Once you commit to when and how long you will study, plan on
how
to do it. Most students say they need 40 or more hours to feel prepared. Typically, they split the majority of their time between reading the textbooks or study materials and taking practice exams, so plan accordingly, but double-check your progress periodically and make adjustments as needed.
Step 3: Know The Format Of The Exam
The format of most state insurance exams is a timed, proctored, multiple choice test, typically consisting of 180 or more questions (the actual length and number of questions on your exam will depend on the state in which you are testing).
Step 4: Practice, Practice, And Practice Some More!
Whether you take one of our in-person, online, or self-study pre-licensing courses, all come with many sample exam questions. You can even build customized exams based on difficulty, length, and topic of your choice. As you'd probably guess, we suggest you take as many of these sample exams as possible so that you are fully prepared to pass your exam on the first time.
Contact Info: Oregon Insurance Licensing Requirements
To help with your examination scheduling, we have provided below information on Oregon licensing requirements, its insurance department, and examination scheduling facilities.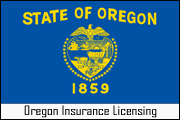 Oregon Division Of Financial RegulationAddress:
350 Winter Street N.E., Room 440-3 | Salem, OR 97301-3883
Phone:
503-947-7981
Website:
https://dfr.oregon.gov/business/licensing/insurance/Pages/producer-licensing.aspx
Examination SchedulingProvider:
PSI Exams
Phone:
800.733.9267
Website:
https://candidate.psiexams.com/
Good luck passing your Oregon Life & Health insurance licensing exam!
Other Insurance Licensing Courses For Oregon:
Disclaimer
This information is based on state laws and regulations, and is subject to change. ABTrainingCenter makes every effort to make sure this information is current and accurate, however, ABTrainingCenter is not engaged in rendering legal or professional advice and shall not be held responsible for inaccuracies contained herein.