Series 53 License
Best-Selling Training Courses:
Best-Selling Course(s)
About The Series 53 License
Searching for Series 53 training and help passing your Series 53 exam? Then you've come to the right place!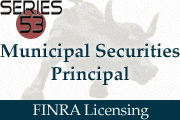 What Is A Series 53 License?
The Series 53 license permits an individual to supervise the municipal securities activities of a securities firm or bank dealer.
The Series 53 qualifies a financial professional to become a licensed Municipal Securities Principal, which allows for the underwriting, trading, and buying or selling or municipal securities. It also permits the holder to render financial advisory or consultant services to issuers of municipal securities, as well as permits communications with customers about the above activities.
In addition, it covers record keeping, as well as the processing, clearing and safekeeping of municipal securities, and the training of principals and representatives.
Who Needs A Series 53?
The Series 53 license is required of individuals who, as a principal, will supervise the municipal securities activities of a securities firm or bank dealer. It is required by the MSRB for any person who manages representatives who handle municipal securities
What Are The Prerequisites For The Series 53?
Series 53 candidates are required to pass the Series 52 Exam (Municipal Securities Representative Exam) before taking the Series 53.
What Is On The Series 53 Exam?
Also known as Municipal Securities Principal Qualification Examination (MP), the Series 53 is a Municipal Securities Rulemaking Board (MSRB) exam administered by the Financial Industry Regulatory Authority (FINRA). The Series 53 exam is 100 multiple-choice questions given over 3.5 hours. Students must correctly answer at least 70% to pass.
Covered Topics:
Federal Regulations
General Supervision
Sales Supervision
Origination and Syndication
Trading
Operations
Recommended Series 53 Exam Prep Training Materials
ABTrainingCenter.com offers Series 53 licensing and exam prep training materials to help individuals pass the Series 53 exam and earn a Series 53 license.
To find training for earning your Series 53 license, simply click on any of the recommended courses below, or search under "Licensing/Designations" in the search box thereafter for "Series 53". Good luck earning your Series 53 license!
Best-Selling Training Courses:
Best-Selling Course(s)
Find Seminars, Webinars, And Online Training In Your Area