Series 6 Licensing

Series 6 licensing courses help qualify an individual to sell investment company securities, mutual funds, variable annuities, and variable life insurance products.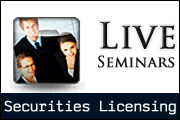 Series 6 Licensing Exam Requirements
The Series 6 exam is 100 multiple choice questions. Test takers will have 135 minutes to complete the exam

There is no required pre-licensing to sit for the Series 6 exam; however, it is highly recommended that you use or Series 6 Exam Prep materials or take one of our Series 6 courses

As part of the Series 6 Exam Requirements, an individual must have a sponsoring company/firm in order to sit for the exam. You may self-study and take as many Series 6 courses as you wish without a sponsor, but a Series 6 sponsor must be obtained before sitting for the actual exam. If you are searching for an employer to sponsor you, it is wise to list "Preparing for the Series 6" on your resume to make yourself more attractive to potential employers

In addition to the Series 6 exam fee, you will be required to provide fingerprints and authorize a background check
Tips For Passing Your Series 6 Licensing Exam
Find a Series 6 Exam Prep Class that suits your individual needs as a student studying for Series 6 Licensing. There are no prerequisites to register for and take a Series 6 exam prep class. You simply need to choose your method of study, whether it be in-person live classes, online, or self-study. Click below for our most popular Series 6 licensing courses:



Get fingerprinted through your local government office or Prometric Testing Center

Fill out Form U-4, downloadable HERE, and return the form along with your fingerprints to your broker/dealer

Have your firm file the form with FINRA. NOTE: Your firm must be the one to file the U-4 form. This proves to FINRA that you have a company sponsor

Once FINRA processes the file, they will return an enrollment confirmation back to you showing you a "testing window". This window is the amount of time you have to sit for the exam to obtain your Series 6 license (usually a 4 month window)
Once you have met all of the Series 6 Exam Requirements you are ready to schedule your Exam! Simply visit a Prometric Testing Center to find an exam facility near you. Exams are given year-round.

Good luck with your Series 6 Exam Prep and Exam!
Keywords: Series 6 Licensing, Series 6 License, Series 6 Exam Prep Class, Series 6 Licensing Course