Texas Life And Health Insurance License And Exam Prep Courses
How To Earn A Texas Life, Accident & Health Insurance License
Become a Texas Life, Accident & Health Agent! AB Training Center provides Exam Prep Training for individuals who wish to earn a Texas Life and Health License. Texas has more than 30 cities with populations of at least 100,000, including Houston, Dallas, San Antonio, Austin, Fort Worth, Arlington, Plano, El Paso, Corpus Christi, Lubbock, Garland, Irving, Laredo, Amarillo, Grand Prairie, Brownsville, McKinney, and lots more. As such, there are many communities for you to be a successful Texas insurance agent.
Texas Life, Accident & Health Insurance Exam Training
We offer TX Life & Health Insurance Exam Prep in many formats including in-person and virtual live classroom training and online courses. Click the applicable links below for details:
What Does A Texas Life, Accident & Health Agent Do?
A Life And Health Insurance Agent sells Life, Disability, Long Term Care, Medicare, and other policies to groups and individuals in Nashville, Memphis, Knoxville, Chattanooga, Clarksville, Murfreesboro, Franklin, Jackson, Madison, Johnson City, and other cities in Texas.
As a Life & Health Agent, you advise clients on what policies best suit their needs, tailor policies to fit their requirements, and help customers when they have questions or file a claim. Ideally, the relationship with your clients will be a long-term one, so you should stay current on your customers' needs, including adding or lowering coverage levels as people age or acquire more wealth or have changing needs.
What Can You Do With A Texas Life And Health License?
Earning a life and health insurance license permits you to sell life and/or health insurance in the state(s) in which you are licensed (insurance licensing is state specific, so you generally need a license from each state for each type of insurance line you want to sell in that state).
Recommended Texas Life, Accident & Health Insurance Licensing Courses, Study Guides, And Exam Prep Materials
AB Training Center provides the required Texas Life and Health insurance training classes, study guides, and exam prep materials needed to obtain your Texas Life & Health Insurance license. Simply select one of the combined licensing courses (meaning both Life AND Health) above or search below for one of our single line licensing courses (meaning Life OR Health). Good luck earning your Texas Life & Health insurance license.
Top FAQs
How Do I Become An Insurance Agent In Texas?
You must take your state-required pre-licensing course, then pass your state's licensing exam. After passing your exam, you typically must meet any basic state requirements such as a minimum age, passing a background check, etc.
What Are The Pros And Cons Of Being An Insurance Agent In Texas?

Pros include flexible work schedules, high incomes via commissions, and helping your neighbors. Cons include low pay if you don't produce, pressure of working in a sales position.
What Type Of Courses Do You Offer For Earning My Texas Insurance License?

We offer online and Instructor-led courses for taking your state's required pre-licensing course and earning your Texas insurance license.
What Is On The Texas Insurance Licensing Exam?

The exam will cover both a general section with basic insurance product knowledge, and a state section with specific insurance laws, rules, regulations, and practices that are unique to Texas. 
How many questions are on the Texas Insurance Agent licensing exam?

The Texas L&H Agent exam has a total of 145 Questions. You have 2.5 hours to complete the test.
What Is The Pass Rate On Your Texas Insurance Agent licensing exam?

The National Association of Insurance Commissioners publishes data on pass rates by exam and by state showing a 60-70% pass rate for all exam takers, but with our courses over 90%!
How Much Does It Cost To Get An Insurance License In Texas?

The fee for each attempt of the exams is $43
How Long Does It Take To Complete My Texas Insurance Licensing Course?

Texas does not require you to take a certain amount of pre-license credits before testing. This means that preparing for your exam is 100% up to you.
What Is The Best Way To Study For - And Pass - My Texas Insurance Exam

How To Get Your Insurance License In Texas
What Is On The Texas Life & Health Insurance Licensing Exam?
Types of Life Policies
Life Policy Provisions, Riders, and Options
Completing the Application, Underwriting, and Delivering the Policy
Taxes, Retirement, and Other Insurance Concepts
Texas Statutes and Rules Common to All Lines
Texas Statutes and Rules Pertinent to Life Insurance Only
What Are The Education Requirements For A Texas Life and Health License
In the state of Texas, there is no pre-licensing requirement or specific number of hours you must meet prior to sitting for the state exam. To earn the license, you simply need to choose your method of exam prep study, whether it be in-class, online, or self-study exam prep for the TX Life and Health license. Once you feel ready for the state exam, contact Pearson Vue Testing Centers (1-888-754-7667) to schedule your exam at a location near you. Please note: it is suggested that you register at least 3-4 business days in advance.
Steps For Studying For Your Texas Life & Health Insurance Exam
Step 1. Purchase Your Pre-License Education Course
Before attempting to take the insurance license exam you'll need to be sure you're well prepared. Since there is a fee for every attempt at the test, and the national first-time pass rate is between 50%-60%, it is not something to take lightly.
What we have found is that the majority of the non-pass attempts are people who come to the exam having studied for less than one hour. Once they take the exam and realize that most of the questions can't be answered with common knowledge, they go back and purchase real study materials, then go back a second time and pass.
Since we want you to pass the first time you take the exam, we recommend that you take your studies seriously, and either take an online course or get a textbook before attempting the test. Insurance license exam fees aren't cheap, so save yourself some time and money by doing it right the first time.
Step 2. Take Multiple Insurance License Sample Practice Exams
The next step after completing all of your exam-prep is to take the insurance exam. You will take one exam for each line of insurance you wish to carry. Life& Health (L&H) and Property & Casualty (P&C) lines are combined lines in Texas, so you will take two exams if you wish to attain all of these lines of authority: Property, Casualty, Life, Accident, Health. There are no limits on attempts at each exam per year, but once you pass, you must apply for the license within twelve (12) months or retake the test.
To ensure you pass your exam to become a licensed Texas Insurance Agent, your best approach is to take as many practice exams as possible. With the sample practice questions that come with our Texas pre-licening courses, you will be able to build customized exams based on difficulty, length, and topic of your choice, as well as create online personal notes and bookmarks.
Contact Info For Your Texas Life And Health Licensing Exam
To help with your examination scheduling, we have provided below information on Texas licensing requirements, its insurance department, and examination scheduling facilities.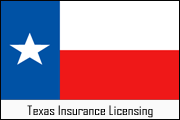 Texas Department of Insurance - Agents Licensing DivisionAddress:
MC107-1A | P.O. Box 149104 | Austin, TX 78714-9104
Phone:
512.322.3503
Fax:
512.490.1029
Email:
license@tdi.state.tx.us
Website:
"https://www.tdi.texas.gov/agent/adjuster-all-lines-apply.html"
Examination SchedulingProvider:
Pearson Vue testing centers
Phone:
888-754-7667
Website:
http://www.pearsonvue.com/tx/insurance/
Good luck passing your Texas Life & Health insurance licensing exam!
Other Insurance Licensing Courses For Texas:
Disclaimer
This information is based on state laws and regulations, and is subject to change. ABTrainingCenter makes every effort to make sure this information is current and accurate, however, ABTrainingCenter is not engaged in rendering legal or professional advice and shall not be held responsible for inaccuracies contained herein.