Utah Life & Health Licensing And Exam Prep Materials
How To Earn Your Utah Life & Health Insurance License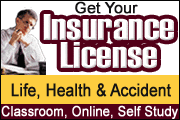 About The Utah Life And Health Insurance License
You're interested in pursuing a career selling life and health insurance in Utah, but you don't have a license. ABTrainingCenter.com is your handy guide to all you need to know about Utah insurance licensing requirements, including pre-licensing, preparation, the exam itself, and applying for your license.
Benefits Of A Life And Health Insurance License
If you want to be a successful insurance agent, you need to deliver insurance policies that people want, like health and life insurance. If you have a life and health insurance license in Utah, you can be the beneficiary of this demand. Below are links for our best-selling Utah Life & Health insurance licensing courses, as well as information and links for you to read about specific requirements for earning your license.
Life And Health Pre-Licensing Requirements For Utah Resident Agents
There are no specific pre-licensing requirements to take the Utah life and health insurance licensing exam. But make sure you are adequately prepared. The more study time you put in, the better your chances of passing on the first try.
At Agent Broker Training Center, we have courses and study materials that contain all the information you can expect to see on the exam, with practice tests designed to simulate actual exam questions.
About The Utah Life And Health Insurance Exam
You can register for the exam with PSI Exams. If you are taking only the life or only the health insurance exam, the fee is $59. If you are taking the exam for both lines, it is $74. Make sure you have your photo I.D. (driver's license, passport, etc.) and one other form of I.D. when you arrive to take the exam. You have three exam options in Utah:
Life Insurance: 80 questions, 2 hours
Health Insurance: 80 questions, 2 hours
Life and Health Insurance: 100 questions, 2 hours and 30 minutes
All tests are multiple-choice and a 70 percent success threshold is required to pass. If you pass, you will receive a report. If not, your report will show where you did well and where you can improve.
In Utah, you will apply for your license on-site. Use the provided kiosk to fill out your licensing examination, then show the confirmation to the test proctor. You will pay a $20 processing fee to scan your fingerprints for the background check. After the fingerprinting, you will have completed all steps to receive your license.
Recommended Courses For Utah Life And Health Licensing
To find Utah insurance licensing courses, study guides, practice exams, and exam prep materials, simply click on any of the recommended courses below or select your desired license type and your state from the "Licensing" section of the search box below. Good luck becoming a Utah insurance agent!
Find Seminars, Webinars, And Online Training In Your Area
How To Become A Life & Health Insurance Agent In Utah
Below is information on Utah's Life & Health insurance department, exam requirements, and examination scheduling facilities.
Contact Info: Utah Insurance Licensing Requirements
To help with your examination scheduling, we have provided below information on Utah licensing requirements, its insurance department, and examination scheduling facilities.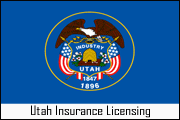 Utah Insurance Department - Producer Services DivisionAddress:
3110 State Office Building | Salt Lake City, UT 84114-6901
Phone:
801.538.3855
Website:
http://www.insurance.utah.gov
Examination SchedulingProvider:
PSI Exams
Phone:
1.800.733.9267
Website:
http://www.psiexams.com/
Good luck passing your Utah Life & Health insurance licensing exam!
Other Insurance Licensing Courses For Utah:
Disclaimer
This information is based on state laws and regulations, and is subject to change. ABTrainingCenter makes every effort to make sure this information is current and accurate, however, ABTrainingCenter is not engaged in rendering legal or professional advice and shall not be held responsible for inaccuracies contained herein.