Virginia Life & Health Licensing And Exam Prep Materials
How To Earn Your Virginia Life & Health Insurance License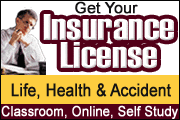 About The Virginia Life And Health Insurance License
Before you can start selling life or health insurance policies in Virginia, you need the appropriate life or health insurance license. At ABTrainingCenter.com, we have all the information you need, from pre-licensing requirements to exam preparation.
What A Life And Health Insurance License In Virginia Can Do For You
A life and health insurance license can launch your insurance career in Virginia. These are extremely popular types of policies, and even if they are the only policies you sell, you should have a large client base. If you already sell insurance and are looking to expand your offerings, life and health insurance policies are an ideal option.
Below is information about what you would do as a Virginia Life and Health insurance agent, links for our best-selling Virginia Life & Health insurance licensing courses, and information and links for you to read about specific requirements for earning your license.
What Can You Do With A Virginia Life And Health License?
Earning a life and health insurance license permits you to sell life and/or health insurance in the state(s) in which your are licensed (insurance licensing is state specific, so you generally need a license from each state for each type of insurance line you want to sell in that state).
What Are The Requirements For Becoming A Life and Health Insurance Agent?
Licensing requirements vary from state to state, so ABTrainingCenter offers insurance pre-licensing courses for each state.
Our programs typically contain not only great training material, but numerous practice exams to help you pass your Life & Health or Property & Casualty insurance license exam on the first try! Here is just some of the exam prep materials that you receive:
A downloadable textbook that includes information on Massachusetts insurance laws
Class Notes and Audio Review
OnDemand Online Video Review that can be viewed as frequently as you like
Loads of practice exam questions
Recommended Courses For Virginia Life, Health, And Accident Licensing
To find Virginia insurance licensing courses, study guides, practice exams, and exam prep materials, simply click on any of the recommended courses below or select your desired license type and your state from the "Licensing" section of the search box below. Good luck becoming an Virginia insurance agent!
Top FAQs
What Are The Requirements To Get An Insurance License in Virginia?
You must take your state-required pre-licensing course and pass your state's licensing exam. There also are base requirements such as a minimum age, passing a background check, etc.
Do I Need A License To Sell Insurance In Virginia?

Yes. You must be licensed by the state in which they wish to sell insurance.
What Are The Pros And Cons Of Being An Insurance Agent In Virginia?

Pros include flexible work schedules, high incomes via commissions, and helping your neighbors. Cons include low pay if you don't produce, pressure of working in a sales position.
How Long Does It Take To Complete My Virginia Insurance Licensing Course?

Virginia does not require you to take a certain amount of pre-license credits before testing. This means that studying for your exam is 100% up to you.
What Type Of Courses Do You Offer For Earning My Virginia Insurance License?

We offer online and Instructor-led courses for taking your state's required pre-licensing course and earning your Virginia insurance license.
Find Seminars, Webinars, And Online Training In Your Area
Life And Health Pre-Licensing Requirements For Virginia Resident Agents
There are no pre-licensing requirements to fulfill in Virginia. But keep in mind that most people who pass the exam on the first try put in many hours of study time. How do you know what to study? That's where Agent Broker Training Center comes in. We have courses and study materials that are designed specifically to help you pass the Virginia life and health insurance licensing exam.
About The Virginia Life And Health Insurance Exam
First, go to the Virginia State Police website and ask for a Criminal History Record Report. You will need to present this before you can receive your license. Next, you can schedule your exam. Pearson VUE administers the test, so contact them online to register for a $51 fee. You will need to bring proof of identity to the exam. In this case, that means two forms of I.D., including a picture I.D. like a driver's license, state I.D. card or passport. You have three exam options in Virginia:
Life Insurance: 105 questions, 2 hours
Health Insurance: 105 questions, 2 hours
Life, Accident and Health Insurance: 150 questions, 2 hours and 30 minutes
Each exam is a computer-generated and multiple-choice. When you complete the test, you will get a score report. If you have gotten 70 percent or more of the questions correct, that report will be marked "pass." If you pass, you can apply to Sircon for your license. You will need to include the Criminal History Record Report.
Tips For Studying For Your Life And Health Insurance License Exam
The following tips for studying for your Life and Health Insurance License exam should help you pass your exam on the first try.
Step 1: Make A Commitment - And Stick To It
Whether you plan to study full- or part-time, start by taking a few minutes to plan how study process. Will you spend an hour every evening? Spend all day every Tuesday? Have a mentor work with you? Regardless of what you plan, make sure you stick to it.
Step 2: Develop A Study Plan
Once you commit to when and how long you will study, plan on
how
to do it. Most students say they need 40 or more hours to feel prepared. Typically, they split the majority of their time between reading the textbooks or study materials and taking practice exams, so plan accordingly, but double-check your progress periodically and make adjustments as needed.
Step 3: Know The Format Of The Exam
The format of most state insurance exams is a timed, proctored, multiple choice test, typically consisting of 150 or more questions (the actual length and number of questions on your exam will depend on the state in which you are testing).
Step 4: Practice, Practice, And Practice Some More!
Whether you take one of our in-person, online, or self-study pre-licensing courses, all come with many sample exam questions. You can even build customized exams based on difficulty, length, and topic of your choice. As you'd probably guess, we suggest you take as many of these sample exams as possible so that you are fully prepared to pass your exam on the first time.
Contact Info: Virginia Insurance Licensing Requirements
To help with your examination scheduling, we have provided below information on Virginia licensing requirements, its insurance department, and examination scheduling facilities.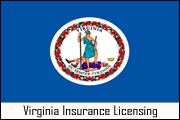 Virginia Bureau of Insurance | Agents Licensing SectionAddress:
P.O. Box 1157 | Richmond, VA 23218
Phone:
804.371.9631
Fax:
804-371-9290
Website:
http://www.scc.virginia.gov
Examination SchedulingProvider:
Pearson VUE
Phone:
1.888.204.6272
Website:
http://www.pearsonvue.com/va/insurance/
Good luck passing your Virginia Life & Health insurance licensing exam!
Other Insurance Licensing Courses For Virginia:
Disclaimer
This information is based on state laws and regulations, and is subject to change. ABTrainingCenter makes every effort to make sure this information is current and accurate, however, ABTrainingCenter is not engaged in rendering legal or professional advice and shall not be held responsible for inaccuracies contained herein.