Life And Health Insurance Courses In Washington, D.C.
Best-Selling Training Courses:
Instructor-Led: Webinars
Online Training Courses
Earn Your DC Life & Health Insurance License With Our DC Pre-Licensing Courses And Exam Prep Materials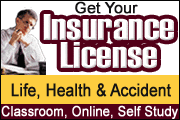 If you are an insurance broker in Washington, D.C., looking to add life and health insurance to your list of offerings, you must be licensed in these areas. You can find the life and health insurance courses for D.C. licensing that you need through Agent Broker Training Center.
What A D.C. Life And Health Insurance License Can Do For You
Once you have your life and health license for D.C., you will be able to offer life and health insurance policies to clients throughout the Washington, D.C. area. This will allow you to greatly expand your business and attract more customers due to your greater offerings. Of course, this is all dependent upon your passing the D.C. health and life insurance exam.
D.C. Life And Health Pre-Licensing Requirements For Resident
Because each state has different laws and statutes governing behavior, they also have different regulations for life and health insurance licensing. In the case of D.C., prelicensing education is not required. However, due to the difficulty and nature of these exams, we highly recommend enrolling in a study course.
AB Training Center can help you find the D.C. license courses you need to pass your Life & Health Exam. We offer both online and printed materials to help you prepare for your D.C. licensing exam.
After you have completed the coursework and are consistently scoring high on your practice exams you should register for the state exam with Pearson VUE. You can schedule this by going to Pearson VUE or by calling 800-274-0610.
D.C. Life And Health Licensing Examination Requirements
You may choose to take the DC life insurance exam only, the accident and health exam only or a combined lines exam. The exam fee is $70. If you choose only the life or only the accident and health insurance exam, you will have an 80-question multiple choice test to complete. If you choose the combined lines of life, accident and health, there will be 130 questions. Either way, a score of 70% is required for a passing grade.
Your exam will be scored immediately upon completion. Once you learn you have passed the exam, you have to apply for your license with the DC Department of Insurance. You can contact them online or at 202-727-8000 to initiate the license application process.
Life And Health Insurance Courses For D.C. With Agent Broker Training Center
Finding the right pre-licensing courses to take is the most important step when it comes to obtaining your health and life insurance license for D.C. That's why AB Training Center has a range of different course and study options to give you the best chance of passing your test on the first try. Whether you learn best in a classroom, at home or with unstructured self-study, we have a solution for you. Simply choose your preferred course below.
Recommended DC Life And Health Insurance Courses And Exam Prep Materials
To find DC Life and Health insurance licensing courses and exam prep materials, simply click on any of the recommended courses below or select "DC " and your state from the "Licensing" section of the search box below. Good luck passing your DC Life & Health insurance licensing exam!
Best-Selling Training Courses:
Instructor-Led: Webinars
Online Training Courses