Earn Your Accredited Investment Fiduciary AIF Designation!
Searching for AIF training? Then you've come to the right place!
ABTrainingCenter.com offers AIF training and certification courses for those individuals interested in earning the prestigious Accredited Investment Fiduciary designation.
Administered by fi360, the Accredited Investment Fiduciary (AIF) professional designation is the industry's first and only designation that demonstrates knowledge and competency in the area of fiduciary responsibility and communicates a commitment to standards of investment fiduciary excellence. Holders of the AIF® mark have successfully completed a specialized program on investment fiduciary standards and subsequently passed a comprehensive examination.
The AIF designation has a reputation in the industry as being the best positioned to implement a prudent process into their own investment practices, as well as being able to assist others in implementing proper policies and procedures.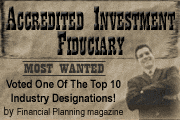 For this reason the AIF was named one of the "Ten Most Wanted" designations in the investment industry in Financial Planning magazine.
Curriculum
The AIF program is offered in two distinct training formats: candidates may complete a Web-based Program or a Capstone Program - blended learning experience that combines the Web-based Program with a 1-day classroom session.
The various training formats cater to the needs of the busy professional, yet deliver the same curriculum. Each format concludes with an examination in order to apply for and earn the AIF designation.
Examination Requirements
Candidates for the AIF designation will be required to take a 90-minute, closed-book accreditation exam that must be passed with a 75% or better. The examination is administered at the conclusion of training for Capstone participants, and as an online examination for Web-based participants. Please note that a proctor is required for online examinations. At the end of the program, students need to submit a designee application with the first annual payment of the designation fee ($325), and agree to abide by the designation's Code of Ethics in order to earn the AIF Designation.
Additional Requirements
Once accredited, AIF designees have the following annual obligations:
Sign and agree to abide by a Code of Ethics

Complete appropriate continuing education requirements

Submit a renewal application with $325 in annual dues
Continuing Education Requirements
AIF designees are required to complete six hours of continuing education annually. The continuing education offerings are offered via live conference events, live webinars, and on-demand webinars. This service is provided as part of the annual dues and requires no additional charge. Two hours may be fulfilled from outside sources.
Recommended Courses & Available Training Options
ABTrainingCenter.com offers multiple courses and training formats for earning the AIF designation. For instance, we offer the Classroom-based and Web-based Programs, so you can select the format that best fits how you learn.
Simply select any of the recommended courses below, or search under "Designations/Certifications" in the search box thereafter for "AIF - Accredited Investment Fiduciary".