Need Workers Compensation Training?
Searching for Workers Compensation training or training to earn your AIC designation? Then you've come to the right place!
As you may know, employers generally must offer Workers Compensation benefits to employees to cover lost wages and medical costs related to an injury.
Generally, state law governs workers compensation, and though each state's system differs in the details, the overall structure and operation of workers comp is similar from state to state. Generally speaking, employers must:
Report workplace injuries and illnesses on a timely basis
Have workers file an injury claim - and not penalize them for doing so
Submit accurate payroll information in a timely manner to determine premiums
Pay their Workers Comp premiums in a timely manner
Not require employees to pay for the cost of workers comp insurance coverage
Whether you are a new or experienced Workers Compensation administrator or agent, if you have Workers Compensation responsibilities, then our Workers' Compensation training courses can help!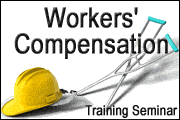 Recommended Workers' Comp Training Courses
State-Specific Workers Compensation Specialist Certification
If you are interested in state-specific Workers' Compensation Specialist Certification, simply click on your state below to see our state-specific Workers' Compensation Specialist Certification training courses.
Workers Compensation Adjuster Training
TrainingCenter offers several Workers Compensation adjuster training courses for those individuals looking to earn an AIC designation. These include:
Other Workers' Compensation Training Courses
Select any of the recommended courses below, or search under "Professional Development" in the search box thereafter for "Workers Compensation". Good luck with your training!