About Our Michigan Insurance Licensing Courses And Exam Prep Materials
Your career as a Michigan insurance agent starts with earning the right licenses. We can help you earn these licenses with our pre-licensing courses, study guides, and exam prep materials that are designed to help you pass your Michigan licensing exam and start your career as a Michigan Insurance Agent.
Our exam prep materials are delivered in an easy-to-understand manner that provides important insights and valuable exam tips and strategies covering your state's rules and regulations for insurance licensing. Here is just some of what you'll learn by using our pre-licensing courses and exam prep materials:
Downloadable/printable textbooks that utilizes short, focused paragraphs with numerous graphics and exercises to help you learn faster and retain critical information
OnDemand Online Video Review that can be viewed anytime, anywhere, and as frequently as you like
MP3 Audio Review
State law supplement
Tons of practice exam questions
Tips For Earning A Michigan Insurance License
Step 1. Purchase Your Pre-License Education Course
Before attempting to take the insurance license exam you'll need to be sure you're well prepared. Since there is a fee for every attempt at the test, and the national first-time pass rate is between 50%-60%, it is not something to take lightly.
What we have found is that the majority of the non-pass attempts are from individual who don't study enough. Once they take the exam and realize that most of the questions can't be answered with common knowledge, they go back and purchase real study materials, then go back a second time and pass.
Since we want you to pass the first time you take the exam, we recommend that you take your studies seriously, and either take an online course or get a textbook before attempting the test. Insurance license exam fees aren't cheap, so save yourself some time and money by doing it right the first time.
Step 2. Take Multiple Insurance License Sample Practice Exams
The next step after completing all of your pre-license coursework or self-study is to take the insurance exam. You will take one exam for each line of insurance you wish to carry. To ensure you pass your exam to become a licensed Insurance Agent, your best approach is to take as many practice exams as possible.
Michigan Insurance Licensing Requirements
Wondering how to become an insurance agent in Michigan? To help with your examination scheduling, we have provided below information on Michigan licensing requirements, its insurance department, and examination scheduling facilities.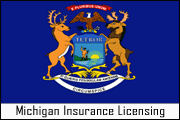 General Requirements
Applicant must be at least eighteen (18) years old or older as determined from the applicant's date of birth
Non-citizens of the U.S. must have a resident license for selling insurance in one of the fifty (50) U.S. states
Life & Health Insurance Licensing
Candidates must complete 20 hours of pre-licensing for either or Life or Health license or40 hours for a combined license
Michigan pre-licensing can be done via classroom, online, or self-study course
Property & Casualty Insurance Licensing
Candidates must complete 40 hours of pre-licensing for Property & Casualty or 20 hours for a single line of licensure
Pre-licensing can be done via classroom, online, or self-study course
Adjuster Licensing
You must be at least 18 years old
There is no pre-licensing requirement but, due to the difficultly of the exam, we recommend taking an exam-prep course
Register for, and pass, the state exam with http://candidate.psiexams.com/
Office of Financial and Insurance Regulation | Licensing DivisionAddress:
PO Box 30220 | Lansing, MI 48909
Phone:
877.999.6442
Fax:
517.241.3953
Email:
ofir-licensing@michigan.gov
Website:
http://www.michigan.gov/ofir
Examination SchedulingProvider:
PSI Exams
Phone:
1.800.733.9267
Website:
http://candidate.psiexams.com/
Good luck passing your Michigan
P&C insurance licensing exam!
Other Insurance Licensing Courses For Michigan:
Disclaimer
This information is based on state laws and regulations, and is subject to change. ABTrainingCenter makes every effort to make sure this information is current and accurate, however, ABTrainingCenter is not engaged in rendering legal or professional advice and shall not be held responsible for inaccuracies contained herein.