Welcome To
Agent Broker
TrainingCenter.com

Insurance and Securities Licensing, Designations, CE, And Career Development Training For Agents, Brokers, And Financial Services Professionals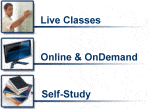 Training Center offers series 6, 7, 24, 63, 65, 66, and other securities licensing training courses, Life, Health, P&C, and other insurance licensing training courses, as well as Adjuster, Workers' Comp, CFP and other financial advisor certifications, plus ARM, AIC, and other insurance certifications for insurance and financial services professionals.

To find training, select from either the "Securities Licensing", "Insurance Licensing", or "Certification & Designation" search boxes below or from any of the links on the menu bar above.
Professional Development
We offer a number of training courses such as advanced tips and methods for how to sell products like Long Term Care, Annuities, Auto Insurance, and Employee Benefits, how to offer HR administration services, or simply how to improve your skills with QuickBooks and Excel.
Insurance Licensing is regulated at the state level and, as such, each state government establishes its own insurance licensing requirements and examination procedures.
To find the right insurance licensing course for you, simply select your resident state below:
Please notify me of new regulations or newly-listed training courses.
ABTrainingCenter.com provides training and education for brokers, agents and financial service providers for earning designations, licenses, CE (continuing education) credits and professional development.



ABTrainingCenter.com. 5755 North Point Parkway, Suite 228-aB | Alpharetta, GA 30022 | 770-410-9375 | support@ABTrainingCenter.com
Copyright ABTrainingCenter.com 2016 | Web Site Development by OTAU