Welcome To

Agent Broker
TrainingCenter.com


Insurance and Securities Licensing, Designations, CE, And Career Development Training For Agents, Brokers, And Financial Services Professionals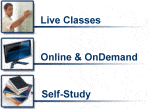 Training Center offers series 6, 7, 24, 63, 65, 66, and other securities licensing training courses, Life, Health, P&C, and other insurance licensing training courses, as well as Adjuster, Workers' Comp, CFP and other financial advisor certifications, plus ARM, AIC, and other insurance certifications for insurance and financial services professionals.

To find training, select from either the "Securities Licensing", "Insurance Licensing", or "Certification & Designation" search boxes below or from any of the links on the menu bar above.
Professional Development
We offer a number of training courses such as advanced tips and methods for how to sell products like Long Term Care, Annuities, Auto Insurance, and Employee Benefits, how to offer HR administration services, or simply how to improve your skills with QuickBooks and Excel.
Insurance Licensing is regulated at the state level and, as such, each state government establishes its own insurance licensing requirements and examination procedures.
To find the right insurance licensing course for you, simply select your resident state below:

Accredited Investment Fiduciary (AIF) Web-based Program



The vast majority of fiduciaries receive little or no formal training, and what little is provided is rarely comprehensive.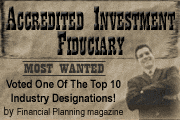 Yet, fiduciaries must be able to demonstrate that portfolio assets are being managed prudently, and that sound investment practices are being followed.

The foundation for all fi360 fiduciary products and services are the Prudent Practices for Investment Fiduciaries. Written by fi360, fully substantiated in law and regulations by the law firm of Reish & Reicher and reviewed by the AICPA, the Practices are the definitive guide for all investment fiduciaries. When applied and implemented correctly, the Practices have several key benefits:
Clarity – The Practices serve as a clear and concise checklist to benchmark current fiduciary preparedness, prioritize needed improvements and measure progress

Risk Management – By uncovering and rectifying investment and/or procedural risks, litigation risks (and E&O premiums) may be reduced

Outstanding Client Service – When you achieve fiduciary excellence, those who rely upon you for their financial well-being gain the benefit of processes worthy of their trust
Accredited Investment Fiduciary® (AIF®) Training is the best way to absorb the Prudent Practices, their legal underpinnings, and how to apply them within existing fiduciary policies and procedures. The AIF Training concludes with an examination in order to apply for and earn the AIF designation.
... More Details / Purchase

Series 6/63 Live Classroom Review + OnDemand Online Class Package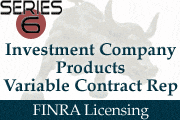 Prepare for the Series 6 and Series 63 securities licensing exams with our flexible study program. Our on-demand online and live classroom review courses are designed with your busy schedule in mind.

Key Course Features Include:
Series 6 Live Classroom Review

Series 63 OnDemand Online Review Class

Materials for Series 6 and Series 63

License Exam Manual

Class Notes

Practice Exams

Mastery Exam

SecuritiesPro QBank

InstructorLink
Note: The Series 63 review is conducted in an OnDemand Online format. The course is available to you 24/7 for 4 months from the date of purchase.
... More Details / Purchase

Please notify me of new regulations or newly-listed training courses.
ABTrainingCenter.com provides training and education for brokers, agents and financial service providers for earning designations, licenses, CE (continuing education) credits and professional development.