It's Not About Price: Value Selling In Today's Markets And Moving Decision-Makers: Overcoming Stalls, Objections And Indecision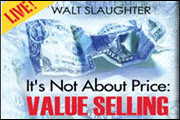 Seminar: ID# 1004017
About This Course:
Join us for this amazing 2 day seminar!
Day one we will present
It's Not About Price: Value Selling In Today's Markets
Research shows that 70% or more of all B2B buyers are not especially price sensitive, and that 93% of all customers seek value when they buy. Further, value is based upon a buyer's relationship with a supplier. Learn how to master this knowledge and you can become their "go to" supplier.
Create Scores Of New Sales And Profit Opportunities!
By attending this seminar, you will learn what prospective buyers want from you, and how to make value, not price, the issue.
Here are just some of the great skills you'll learn:
15 things that buyers want from you before low price
How to book 50% or more new business on non-price issues
How to clinch any sale with three questions
How to side step the commoditization trap
Why most salespeople don't score with their value propositions
How to react when it is about price
How to capture buyers undivided attention (no small thing today)
Ways to make an instant ally of virtually every prospect
How to avoid making today's five most common selling mistakes
How to bullet-proof your customer base
How to sell to each buyers value perceptions
How to differentiate your products and services from your competitors offerings
The single most effective "close" you can use
More Value-Selling Ideas That You Will Take Away And Put To Work:
Five little-known tips for winning more bids and quotes
How to respond when a buyer says that he can get the same thing for less
How not to telegraph that your price is negotiable
Why never to be first to present your product or service solution(s)
When asking a favor beats doing a favor every time
How to minimize ¨C even eliminate ¨C RISK on the part of the buyer
Three ways to defer discussing price prematurely
How to maintain gross margin when faced with competitive pressure

Day two we will present Scoring More Sales: Overcoming Stalls, Objections & Indecision Learn how to instantly step up your game..
You'll gain insights that will help you sell more comfortably, confidently, and credibly every day, allowing you to score more sales more quickly.
Here Is Just Some Of What You'll Learn:
Why prospects buy: the surface and subsurface reasons
Why prospects do not buy and what you can do about it
How to avoid mismatching when interacting with decision-makers
How to ask questions that result in a sale or move you closer to one
How to prepare for and pre-empt most objections
How to reduce the perceived risks associated with a buying decision
What drives stalls, objections and indecision
How to address emotional triggers as well as rational reasoning
A Law of Physics that you don't want to buck
Two truths upon which your selling success turns
When and where a 10% investment will yield a 100% return!
Objection Busters
Tired or not getting the sale? Hear once-and-for-all how to deal with:
The prospect who objects on price
The prospect who is satisfied with his current supplier
The prospect who wants to think it over
The prospect who says he can get the same thing for less
The objection(s) you get most often
Whatever your branch of business, you will build upon your sales skills in this fast-paced and interactive learning experience with Walt Slaughter.

Reasons To Register Now:
YOU will book more business and earn more money. - Value selling techniques consistently lead to greater sales and profits. That means higher earnings for you!
YOU will become a master at selling value. - Competing upon price is the second most common mistake that salespeople make. You, on the other hand, will become an expert at differentiating your products and services while focusing upon value, not price
YOU will enjoy a smaller, more interactive environment. - Catch Walt at an association event, and you will be in a crowd. We limit seating at this event to 20 people. Expect to have your voice heard and your questions answered!
YOU will experience a complete, stand-alone program. - Have you attended a seminar only to discover that it was a lead-in to the sale of more expensive products or services? Not here. This is a stand-alone program with no back-of-room sales or pitches from the podium
Times, Dates, and Locations
This seminar begins at 8:30 and ends at 4:30 at the location and dates posted herein. Morning and afternoon breaks will be taken. One hour will be allocated for lunch which we provide. Meeting site (a hotel or conference center in your area) will be included in your confirmation.
Tuition includes the seminar, spiral-bound Briefing Booklet, continental breakfast, lunch and beverages.

Order:
It's Not About Price: Value Selling In Today's Markets And Moving Decision-Makers: Overcoming Stalls, Objections And Indecision
Price: $990.00
To order this product, find a location and date that is convenient for you under the "
Cities & Dates
" tab.