Telephone Skills Training Seminar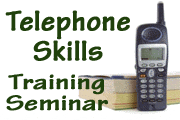 Seminar: ID# 1003051
This course is available in both in-person and video conference formats.
Go to the "Venues/Dates" tab to find a date that is convenient for you.
About This Course:
In sales, the telephone is often your very first chance to make an impression on a new prospect.
Our hands-on seminar will teach you how to build and maintain positive working relationships with customers over the telephone, increasing sales and customer satisfaction.
You will learn:
Working with Each Customer
Buying Styles
Handling Irate Customers
Telephone Strategies
Asking Questions
Listening
Features - Advantages and Benefits
Closing
The Course Structure
The seminar combines theory, practice, and personal feedback through our unique scenario-based methods.
The instructors and attendees will examine facts, opinions, attitudes, and emotions that either inhibit or enhance effectiveness on the telephone.
Participants will learn about themselves and their customers, but most importantly they learn how to deal with different types of customers.
As a participant, you will conduct two mock telephone calls to begin your mastery of proven telephone techniques.
Instructors portray your customers as defined and structured by your manager. Each instructor awards "The Order" to the attendee that successfully met his or her expectations as a prospect or customer.
The telephone calls are digitally recorded and the digital voice recording becomes property of the attendee for using for refresher training.
Agenda
First Day
8:00 - 9:00 Introduction
9:00 - 9:15 Break
9:15 - 10:15 Understanding Your Style - Assertiveness
10:15 - 11:15 Understanding Your Style - Responsiveness
11:15 - 12:30 Recognizing Styles in Others
12:30 - 1:15 Lunch
1:15 - 2:15 Recognizing Styles via Telephone
2:15 - 3:00 Asking Questions
3:00 - 3:30 First Call Discussion - Tailoring the Scenario
3:30 - 3:45 Break
3:45 - 4:30 First Telephone Call (Recorded)
4:30 - 5:30 Review of First Telephone Call
Second Day
8:00 - 8:30 Being Different via Phone
8:30 - 9:30 How Customers Buy
9:30 - 10:00 Listening
10:00 - 10:15 Break
10:15 - 10:45 Ten Telephone Strategies
10:45 - 11:30 Handling Objections
11:30 - 12:30 Handling the Irate via Telephone
12:30 - 1:15 Lunch
1:15 - 2:00 Features ~ Advantages ~ Benefits
2:00 - 2:30 Closing
2:30 - 3:30 Second Telephone Call (Recorded)
3:30 - 4:45 Review of Second Telephone Call
4:45 - 5:00 Awarding of The Order
Times and Dates
This two-day seminar is held on the times and dates posted herein.


Order:
Telephone Skills Training Seminar
Price: $1,730.00
To order this product, find a location and date that is convenient for you under the "
Venues/Dates
" tab.