Searching For Insurance Agent Training?
Need Insurance Agent training for you and/or your staff? Then you've come to the right place, as TrainingCenter offers your required pre-licensing courses in both Instructor-led and self-study formats for your insurance licensing, securities licensing, as well as for your payroll, retirement plan, and cafeteria plan administrative needs!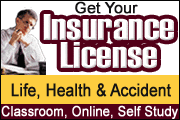 Some of the best financial careers today are found in the insurance industry. Insurance is a trillion-dollar industry that continues to grow. It is a service that every person needs, and starting a career in insurance can be very rewarding!

The Agent Broker Training Center offers Insurance Agent training for individuals who are either beginning a career in insurance or who are already established but would like to improve or expand their knowledge with additional insurance agent training.

We offer state-approved insurance licensing and exam prep courses, exam preparation for securities licenses, and certifications, designations, and specialized training for areas such as claims adjusting, how to sell annuities, LTC plans, etc.


---
Insurance Agent Licensing Courses
---

The Agent Broker Training Center offers the following Insurance Agent licensing courses:
Life and Health Insurance
Insurance Licensing is regulated at the state level and, as such, each state government establishes its own insurance licensing requirements and examination procedures. Click here to see your state's requirements.
Property And Casualty Insurance
A license is a requirement for selling property and casualty insurance in the United States. The license is obtained by upon successful completion of an entry-level exam that tests the applicant's knowledge of general insurance concepts, insurance provisions and policies, and contract law. Click here to find P and C insurance exam prep and pre-licensing courses.
Adjuster Licensing
Considering a career as an adjuster? Each state establishes its own adjuster requirements and exam procedures. To find the right adjuster license for you, simply click HERE and choose your state.


---
Grow Your Revenues With Ancillary Business Offerings
---

Studies show that the companies that provide three or more services to their customers keep those customers far longer than if they provided only one service. As such, you can grow your revenues by offering one or more of the services listed below:

Securities Licensing - Sell Stocks, Bonds, And Mutual Funds
Series 6 Licensing
A Series 6 license qualifies an individual to sell investment company securities, mutual funds, variable annuities, and variable life insurance products.
Series 7 Licensing
A Series 7 license qualifies a candidate for the solicitation, purchase, and/or sale of all securities products, including corporate securities, municipal securities, municipal fund securities, options, direct participation programs, investment company products, and variable contracts.
Series 63 Licensing
A Series 63 Uniform Securities Agent State Law license qualifies individuals to sell securities across state lines.
---
Offer Cafeteria Plan Administration
---

Cafeteria Plans, under Internal Revenue Code Section 125, permits tax breaks on insurance premiums and certain medical and child care expenses. Like anything involving the government, ther are specific rules you must follow, so rather than trying to manage plan administration itself - especially for performing anti-discrimination testing, handling reimbursement requests, and the like - many organizations outsource administration.

Our award-winning Cafeteria Plan Training & Certification Program includes numerous "Examples", "Administrative Tips", "Procedural Recommendations", and "Interactive Q&A" (with answer rationale provided!). You can even test to become a "Certified Cafeteria Plan Administrator", and use your designation on your business card.

For more details or to order this course, go to Cafeteria Plan Training & Certification Program


---
Offer Retirement Plan Administration
---

ABTrainingCenter offers 401(k) certification, Defined Benefit, and other Training and Certification programs that show your clients and prospects that you have received in-depth training in for these specific administrative areas. And being certified allows you to use your designation on your website, business cards, and other marketing materials in order to gain retirement plan business.

We offer Training & Certification Programs for: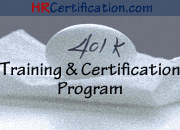 ---
Offer Workers Compensation Guidance And Administration
---

Employers generally must offer Workers Compensation benefits to employees to cover lost wages and medical costs related to an injury.

Whether these benefits spiral out of control or are properly managed depends on the workers compensation administrator. Unfortunately, many organizations of all sizes don't have someone who specifically handles workers comp, let alone take specialized training to identify and address fraud or properly handle claims, doctor relationships, or certain return-to-work requirements.

TrainingCenter offers several training courses, including: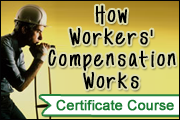 ...as well as a Workers Comp Specialist certication.


---
Offer Payroll Services
---

In today's day and age, organizations have several options for paying their employees: they can do it themselves manually, they can do it themselves with the help of an online service, they can outsource it to companies like ADP or Paychex, or they can outsource it to their accountant or broker.

To handle payroll directly for your customers, become a "Certified Payroll Administrator".


---
Earn An Insurance Agent Certification
---

Enhance your Insurance Agent career by earning a certification or designation such as: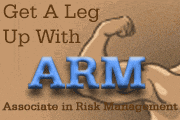 We offer training materials and prep courses for all Insurance Certifications and Designations!