How To Earn Your Insurance Licence
An insurance license allows you to sell insurance products in your state legally. While each state has unique requirements, much of the process will be the same across the country. The following steps will put you on the path toward your career as an insurance agent.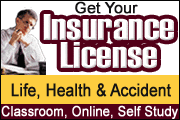 Step 1: Choose A License
Before you can become an insurance agent, you'll need to decide which type of insurance license you want, as well as where you want to base your practice.
If you'd like to sell insurance to neighboring states as well as your own, you'll need to receive a license for each one before conducting business. These are issued by the state's insurance commissioner. While you can get these licenses without being affiliated with a registered agency, affiliation is required before you can officially do business.
Licenses are also separated based on different insurance types, which are known as lines of authority. These include:
Life and health
Life-only or health-only
Limited lines auto
Personal lines
Property and casualty
Workers' compensation
You must have a license for each type of insurance you wish to sell, so knowing which career path you want to take is an essential first step. Different states break down these categories differently, so be sure to look up the licensing classification types specifically for the areas where you will do business.
Step 2: Background Checks
While each state's specific requirements vary, you'll likely need to provide a background history, work history and a complete set of fingerprints that might be shared with various law enforcement agencies. Your insurance department will use the information to receive a national criminal background check.
Step 3: Exam Preparation
Metting all pre-licensing requirements is an obligatory step before taking your state exam. Specifics vary from state to state, but many states require a certain number of hours in insurance licensing classes. These classes - which can be taken either in person or online - provide a general overview of insurance concepts and regulations.
Once you've completed any required pre-licensing course hours, you might need to take and pass a certification exam. A third-party proctor must monitor the exam.
Whether your state requires pre-licensing classes or you're free to take the state exam at your will, you can continue your exam preparation with self-study training materials. These materials should be specific to your state.
Step 4: Passing the State Exam
After you've done your research and finished any pre-licensing requirements, you'll put your knowledge to the test with your state exam. You must earn a passing score of 70 percent or higher to begin your rewarding career as an insurance agent.
If you're starting the process of acquiring your insurance license, you might be wondering where to turn to find the support you need to succeed. At AB Training Center, you'll find an array of insurance courses and resources dedicated to helping you meet your state's requirements and pass your state exam.
Types of Insurance Licensing Classes
AB Training Center has partnered with well-known providers such as Kaplan Financial to offer a range of pre-licensing and training insurance courses. These courses and resources - tailored to different lines of authority - help you thoroughly prepare for your state exam.
Because different states have different requirements to be licensed, it's essential to use the study materials specific to your area. The types of courses we offer vary by state to fulfill a range of unique requirements. Select your state's page above to learn more about the specific services you can choose from.
Here are the three types of insurance training we offer
Seminars

For many states that require a certain number of pre-licensing education hours, we offer live instructor-led seminars presented by recognized industry professionals. These seminars will fully satisfy state education demands. At the end of the course, you'll receive a certificate of completion that will allow you to move on to your state exam. You may need to pass a certification exam to receive this certificate.

Many students prefer a live seminar format so they can meet fellow aspiring financial professionals and ask questions on difficult concepts. The instructor - as well as the included print and online materials - will walk you through a range of topics that will be on your state exam.

Online Insurance Licensing Classes

While some students favor a live learning environment, others prefer learning from home on their own time. You can choose to meet the demands of your state's pre-licensing requirements online with our online course packages.

Like in-person seminars, our proprietary online classes fulfill any required number of pre-licensing hours. After completing the course - and passing your certification exam if required by your state - you'll receive the certificate of completion necessary for taking your state exam.

These courses offer several interactive study solutions, so you can choose to learn and study in a way that works best with your learning style. Materials include audio and video reviews and a printable textbook.

Our available online insurance courses provide a full range of insurance training to give you the information you need to sail through virtually any insurance license exam. Available insurance training courses include:



Securities Licensing

We offer the courses and information you need to help you pass your FINRA exams and earn your securities license, including training for:



The Securities Industry Essentials (SIE) Examination, the core requirement for a Series 6, 7, 79 or 99 license
FINRA Top Off Exams, the second exam you'll need for a Series 6, 7, 79 or 99
The Series 3 National Commodities Futures Examination for qualification to sell future contracts and options
The Series 4 Registered Options Principal Exam for qualification to supervise sales personnel or compliance professionals
The Series 6 Investment Company Products/Variable Contract Representative Exam
The Series 7 General Securities Representatives Exam
The Series 9, 10, 24 and 26 Examinations


...and many more, including the Series 79 Investment Banking Examination and the Series 99 Operations Professional Examination.


Claims Adjuster Licensing

Our popular insurance courses also include claims adjuster training courses to help you earn your claims adjuster license. In addition to state-specific claims adjuster licensing examination training, we also offer training on Xactimate, the software for generating replacement cost estimates that has become the industry standard throughout the country and may even be mandated for adjusters for your organization.


Life and Health Insurance Licensing

Life and health insurance are major industries throughout the United States. We can offer the training you need for life and health insurance licensing, regardless of the state you would like to operate in, with both online courses and in-person courses. Whether you need accident training, ethics training, or general life and health training, we can help you get the hours and education you need to successfully sit for your state's life and health insurance licensing exams. We can provide you with life o